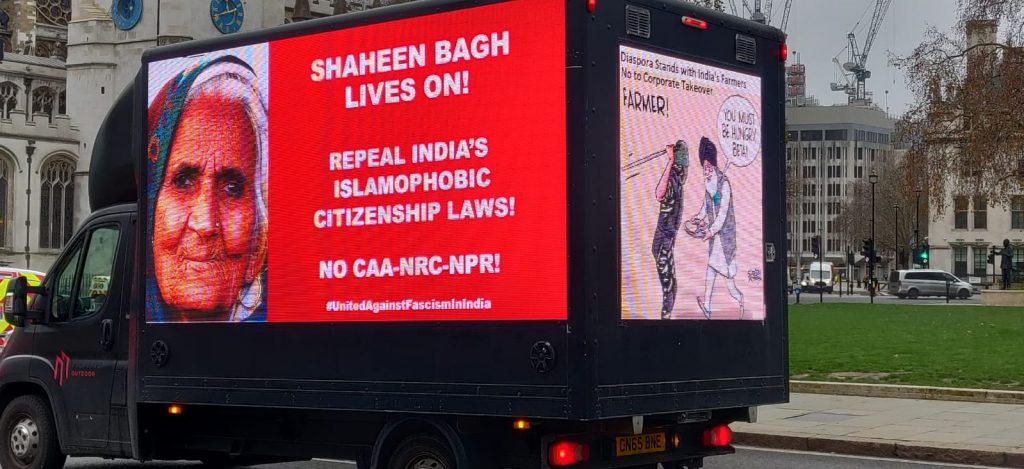 M Ghazali Khan
LONDON— Amid the Corona fear and the social distancing restrictions, the Indian diaspora in London marked International Human Rights Day and the anniversary of anti-CAA protests in India by driving a digital van through central London, including around Parliament Square and the iconic Trafalgar Square.
The van had splashed on its right, left and backside, big digital visuals of Shaheen Bagh protest's iconic figure Biklis Dadi and a slogan, 'Shaheen Bagh Lives on! Repeal India's Islamophobic Citizenship laws'. A second slide, showing women protesters in India read, 'No to India's Nuremberg laws: Love Jihad is a lie' and 'Love is not a crime'. A third slide showed a sketch of a cop beating an elderly Sikh farmer and the farmer offering him food saying, 'You must be hungry'. A Fourth slide displayed the photographs of political detainees and ran a huge caption demanding, 'Release all political prisoners'.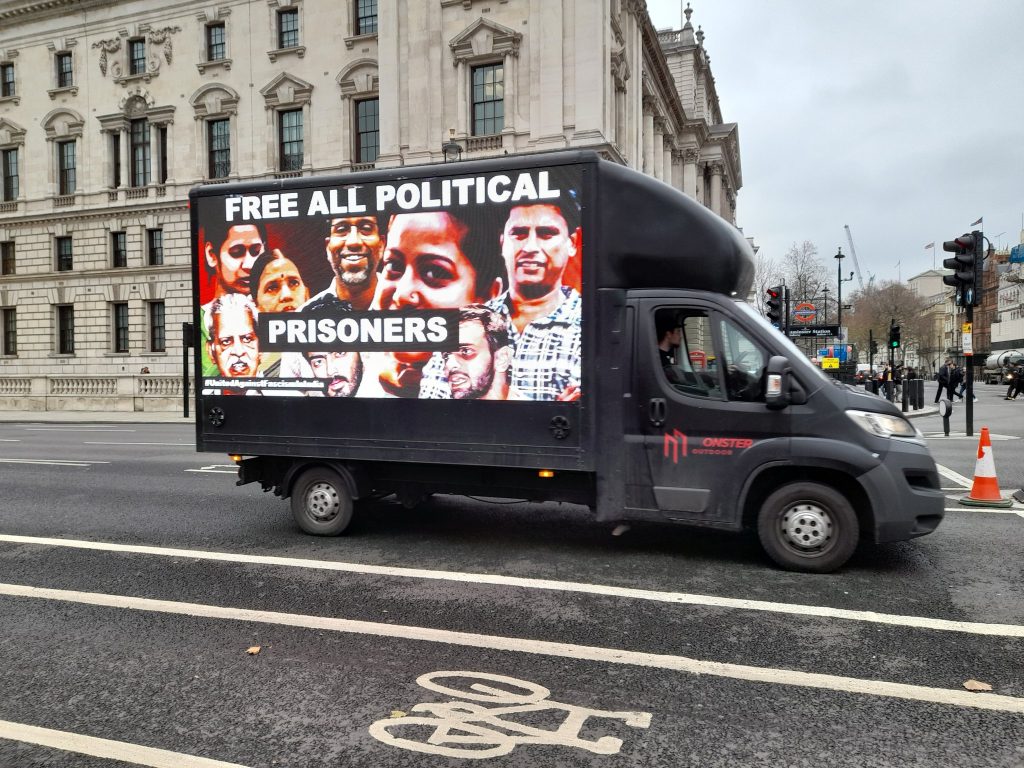 Exactly as the van passed by the Indian High Commission the slide on one side was displaying, 'India follows the playbook of fascism.' It listed some examples that read, 'Strip minorities of citizenship; legislate racial purity; state-sponsored lynching and pogroms, settler colonialism'.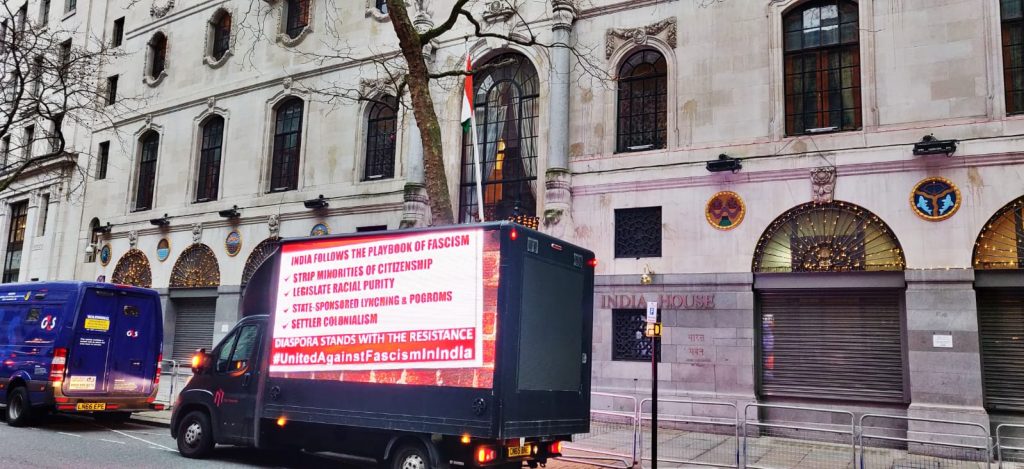 The van stopped at some points where activists recorded brief speeches. For example, standing outside the precinct of House of Commons academic Kalpna Wilson, writer, human rights activist representing South Asia Solidarity Group (SASG) said, 'This van is going round the Parliament Square at the moment. It is telling people in London and the world about what Modi is doing—that the world is watching, and the diaspora is not with Modi. The diaspora is united against fascism. We are standing with farmers' movement. We are inspired by the heroic protest of Shaheen Bagh and now by the farmers.'
Taking a dig at British Prime Minister Boris Johnson, who showed his embarrassingly shameful ignorance about farmers ongoing agitation in India in his reply to Labour MP Mr Tanmanjeet Singh Dhesi on farmers' agitation, Ms Wilson said, 'We know that you may not know the difference between farmers' protest and India Pakistan conflict. But we the diaspora know the difference and we are solidly behind the farmers'.
Standing in Parliament Square under the statue of Mahatma Gandhi, Keval Bharadia, an intersectional anti-imperial political economist and consultant, also SASG member, said, 'Today is the Human Rights Day. But in India Modi's Government is continually abusing human rights. A year ago, they passed the Citizenship Amendment Act which is deeply Islamophobic and it violates India's secular constitution. It disenfranchises the Muslims across the country and is a pathway to ethnic cleansing. Love Jihad also demonises Muslim men and removes all the freedom of choice for Hindu women. These laws taken together are almost identical to Hitler's Nuremberg Laws that are passes to freely commit genocide. This year culminates in the farmers' protests in India resisting India's Modi's government— the corporate takeover of agriculture that is happening there. We stand in solidarity with everyone resisting Modi and the BJP Government.'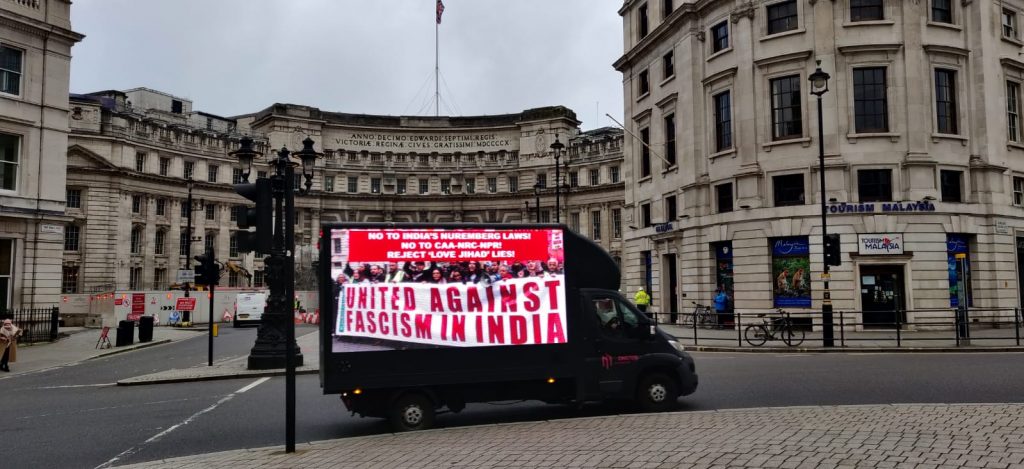 The digital van campaign was organised by the South Asia Solidarity Group in which CasteWatch UK, the Indian Muslim Federation (UK), Strive UK and some other organisations representing Indian diaspora also cooperated.
Listing the laws, 'which we condemn as "India's Nuremberg Laws' a press releases issued by the SASG explains:
'The Citizenship Amendment Act The Citizenship (Amendment) Act ,The CAA potentially disenfranchises India's Muslims. It alters the very basis of Indian citizenship and undermines India's secular Constitution by effectively introducing a 'religion test'. The Act arbitrarily offers Indian citizenship to Hindus, Sikhs, Jains, Buddhists, Parsis and Christians from Pakistan, Afghanistan and Bangladesh in the name of protecting 'persecuted minorities' but excludes Muslims, even those severely persecuted like Rohingyas from Myanmar and Bangladesh and Shia and Ahmadi people from Pakistan. Most crucially the CAA will operate in conjunction with the National Register of Citizens (NRC) (which has already made more than 2 million people in Assam stateless by demanding documents to prove Indian citizenship). While the NRC will potentially allow arbitrary revocation of citizenship, the CAA will lead to the selective mass disenfranchisement of Muslims, because most non-Muslims caught in the snare of the NRC will be offered citizenship as refugees under the CAA.
'The Love Jihad laws The second set of laws are about so-called 'Love Jihad', a notion based on an Islamophobic conspiracy theory that Muslim men are out to seduce and convert Hindu women which has been widely propagated over the last decade. There have been many murders of Muslims on the pretext of Love Jihad. These include a massacre of Muslims in Muzaffarnagar in Uttar Pradesh, in 2013, in which more than 60 people were killed and women were gang-raped. In the past week, the governments in BJP-ruled States have brought anti- Love Jihad laws with a jail term of up to 10 years. 'At present Indian law allows for interfaith couples to be wed without religious conversion on the side of either bride or groom – but it does stipulate that a written notice be both released publicly and sent to the residential address of both well in advance of marriage date. This places the interfaith couples at risk of violence from all those who oppose inter-religious marriages, including families in some cases. In such situations, having a religious marriage (which requires a religious conversion) is often the safest option, and in a patriarchal society it is almost always the woman who converts. Forced conversion is already illegal in India and there are existing laws against it, but the conversions which accompany marriage are made with consent, and in the interests of the safety of the couple. As many senior lawyers have pointed out, if the BJP were simply concerned about these conversions, they could have simply got rid of the requirement of a public notice and a notice period, since this enables retaliation and violence. It is also important to note that extreme violence is being perpetrated against couples who have inter-caste marriages and the discourse created by the new laws will encourage this violence'.