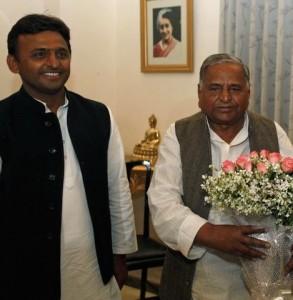 By M Ghazali Khan
Only once have I heard Narendra Modi telling the truth and admitting, in a television interview to a British filmmaker few weeks after the Gujarat genocide in 2002 and admitting, indirectly though, that he is not a fool. "Koi moorakh mukhya mantri hi apne rajya men arajakta phelwai ga (only a foolish chief minister will allow rioting and lawlessness in his state)." Modi was denying his role in the dance of death and destruction demonstrated on the streets of Gujarat under his rule. Not that he is now a reformed man and regrets his foolishness in allowing that program. The fact is that, as the old saying goes, "everybody is wiser after a bad experience", Modi realised the blunders of his strategy only after facing condemnation from all over the world. There is no change in his anti-Muslim stance in the least. He is still spreading the misconception that Muslims are being, "appeased". Praising and congratulating himself he still insists, as he has been saying in his speeches and interviews that his Gujarat experiment has proved, "appeasement ke baghair bhi sab ko saath le kar chala ja sakta hai" (without being appeased any, everyone can be taken aboard).
The narrow-mindedness and foolishness of Modi and his party hardly need any comment. However, what is really strange is the lack of vision and wisdom of someone like Mulayam Singh, who has allowed his solid Muslim support, especially in western UP to evaporate.
Mulayam Singh Yadav in 2010 after apologizing for his association with Kalyan Singh.
His courtship with Hindutva group — praise for Advani, meeting with VHP leaders, allowing anti-Muslim riots, 104 in his one and half year rule in UP, and now the bizarre display of complete disinterest and shameful unwillingness in controlling one of the most horrific riots in the state—is in sharp contrast to the praise he had showered upon Muslims after his overwhelming victory in assembly elections a year ago. Not only had he thanked the Muslims for their support but had even asked his party workers to keep this fact in mind.
But then there is nothing new about this coquettish behaviour of once "Mulla" Mulayam Singh. Before the elections he hadflirted with Kalyan Singh, much to the annoyance of his party's Muslim face Azam Khan and making some of his MLAs to say goodbye to his Samajwadi Party. Realising how damaging this courtship could be for his party, Mulayam parted his ways and was accused by Kalyan Singh of being an opportunist. What the readers would, however, be surprised and shocked to learn is that even few days after ordering the shooting on karsevaks in Ayodhya in 1990, Mulayam Singh was seen embracing with great warmth Mr Kalyan Singh inside the parliament building. This was reported by none other than M. Afzal, now Congress's spokesperson, who used to edit Urdu weekly Akhabar-e-Nau. According to Mr Afzal when he expressed his astonishment at what he was witnessing, Mulayam Singh lost his temper and dared him, "aap ko jo likhna hai likh lena." (Go on, write whatever you want to write).
His government destroyed all the proofs of Varun Gandhi's brazenly anti-Muslim speech delivered in Pilibhit in 2009 and thus helped him in being exonerated by the court.
Far from keeping his pre-election promise to release innocent Muslim youths languishing in jails for the fabricated terror charges, his government suppressed the publication of Nimesh Commission's report on the arrest of Tariq Qasmi and late Khalid Mujahid. His Government went out of its way in protecting guilty officers in Faizabad riots.
Muzaffarnagar riots did not flare up suddenly. Hindutvaites have been busy in polarising the social and political climate in western UP for the last one or two years. Urdu newspapers have been constantly reporting on the provocative activities of Hindutvaites in the region. Few of such events that I can recall are: a maha panchayat and highly poisonous speeches in Manki, a village near Deoband; two Muftis of Darul Uloom Deoband travelling from Roorkee to Deoband, dragged out of a bus and beaten up resulting in tension and violent incidents in the town; two maha panchayats in Deoband and highly provocative speeches made, including by a former BJP MLA; riot between Muslims and Valmikis in Kairana; attack on Tableeghi ijtima in Kairana; a man from Khatauli attacked in a train and his beard shaved off; Muslims stopped from offering Shabeena prayers during Ramazan outside a mosque in Meerut leading to a riot like situation; and students of Darul Uloom travelling to and from Deoband assaulted in trains.
With the only exception that so far there is no proof of Mulayam Singh or his son Akhilesh having directly manoeuvred his foot soldiers to, 'teach Muslims a lesson'. With certain angles there seems no difference between Gujarat in 2002 and Muzaffarnager in 2013: In Gujarat Sabarmati Express tragedy was used to incite anti-Muslim frenzy and organise pogroms, in Muzaffarnagar eve teasing has been used to polarise communities and commit atrocities; in Gujarat charred bodies of karsevaks were allowed to be taken out in a procession, in Muzaffarnagar rabble rousers were allowed to organise Mahapanchayat; in Gujarat mobile phones were used to coordinate attacks on Muslims, in Muzaffarnagar incitement was spread through social media and distributing fake CDs; to prove his efficiency in Gujarat, Modi controlled any reaction after the attack on Akshdham, in UP Mulayam Singh stopped VHP's Yatra and tried to re-establish himself as the saviour of Muslims; Gujarat witnessed killings, arson, rapes and forced migration of Muslims, as time passes more and more similar stories are emerging from Muzaffarnagar. While Gujarat genocide 2002 had all the hallmark of being a well prepared pogrom, the manner in which a fake CD, reportedly shot two years ago in Pakistan, was edited and distributed and the manner in which provocation of Muslims had been going on in the area for more than a year gives every reason to assume that Muzaffarnager pogrom was premeditated and well planned.
In this background Mayawati's comments that, "Every time elections are near, Mulayam Singh and the BJP and its affiliates, come together and plan political strategy," cannot be dismissed.