By M Ghazali Khan
The above clip posted by Okhla Times showing Hindus, Muslims, Sikhs and Christians sitting together with anti-CAA protesters in Shaheen Bagh, Delhi, and praying for the success of the protest reminds me of an equally rare scene of communal amity in India.
The scene I am talking about is from a 1979 film, Junoon, on the 1857 war for India's freedom, in which Naseeruddin Shah (acting as Sarfaraz Khan), is sitting in a mosque with a couple of Muslim soldiers and praying for the victory of 'Jihadis' fighting under the command of Nana Saheb and Bakht Khan, one Hindu and another Muslim.
Students of Jamia and AMU, who have been protesting against the ignoble CAA and NRC and have paid a heavy price for their principled stand, must be congratulated for showing extraordinary courage.
Similarly, Indians, especially the students of JNU and other institutions, and Indian diaspora around the world must be commended for their courage and for the manner in which they have given the hate-mongering-Hindutva-Government biggest shock and have told them unequivocally that they cannot fool the public any more.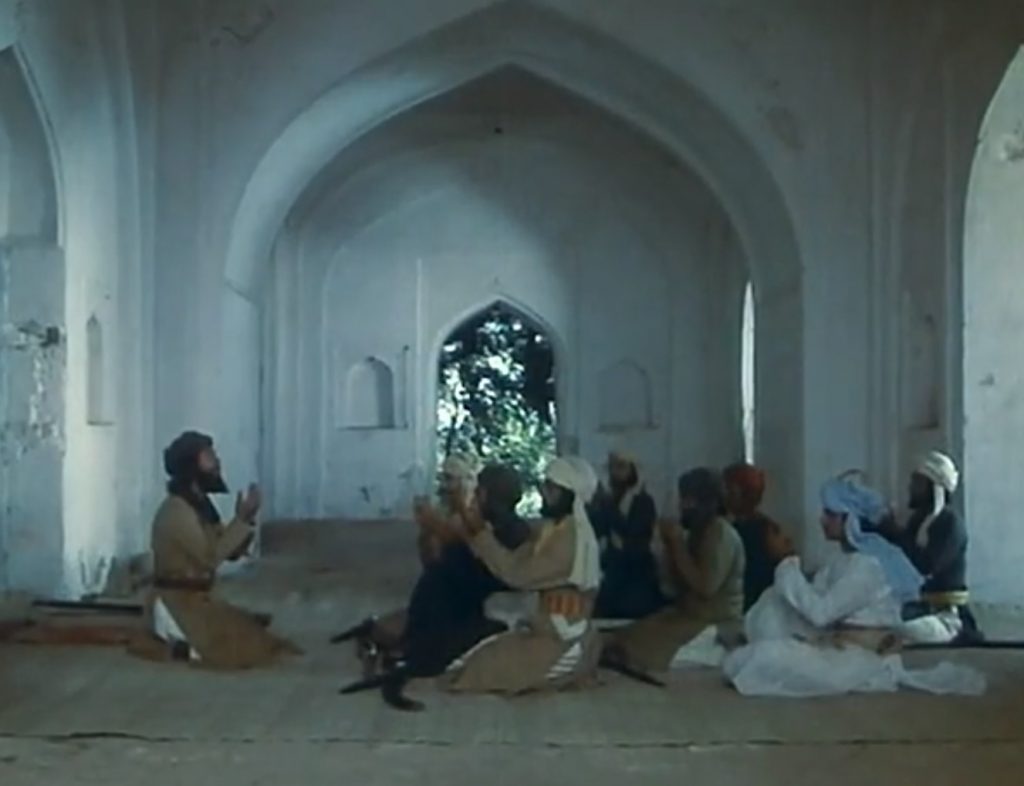 What every Indian and every NRI and every OCI needs to keep in mind is that we are facing one of the most ruthless, shrewd and cunning coteries in the world that feels no compunction in resorting to deceptions, lies, distortions of facts and misguiding people. They are compulsive and brazen liars. The fact that Hindutva fascists are being helped and advised by the Zionists make these jingoists even more vicious and lethal in their intrigues.
In this context, I am particularly reminded of even greater intense scenes of communal amity than we are seeing today. During the anti-Indira wave in 1977, India saw all of the communities come together to defeat Indira Gandhi. But, sadly, the Hindutva coterie misused that euphoria to make its way to and occupy important positions in the government. What we are witnessing today is the result of them being able to use those high positions to spread hate and polarise the atmosphere in the country.
To crush anti-CAA movement and break this unique unity the fascists in power may come up with some dangerous plan and may use agent provocateurs. Please keep an eye on them. Such elements may be in any community. Below is an example of how such elements are planted. This article was written in 2012 and is being reproduced to give an idea of how such elements work. In today's international Islamophobic atmosphere Muslims are the easy target for any government for which hiring such agents and create misunderstandings against Muslims is easiest of all. Such elements may be from any community though.
How Islamic are these Islamists?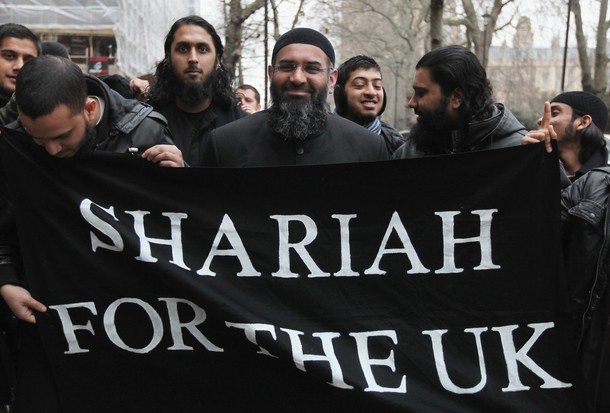 By M Ghazali Khan
The British hate-preacher Anjem Choudary has launched a web site announcing a rally on 3rd March in Delhi that would,'…probably be India's biggest Muslim uprising'. According to the website the rally would also issue fatwas against, senior politicians including Manmohan Singh, Rahul Gandhi, Narendra Modi and L K Advani.
No amount of hostile and adverse publicity in the media is enough for Anjem Choudary. He has mastered the skills of successfully feeding the Islamophobic and hungry media looking for sensational stories. So, having grabbed newspaper headlines in the UK and the US, interviewed on TV channels, in prime shows, by senior and renowned journalists, now he has turned his attention to India, a volatile country where even a road accident can successfully be used by mischief mongers to ignite the fire of sectarianism and push a chain of towns and villages into bloody frenzy. And the timing chosen by this evil genius is no less significant and useful: the eve of the 10th anniversary of the massacre of Muslims in Gujarat.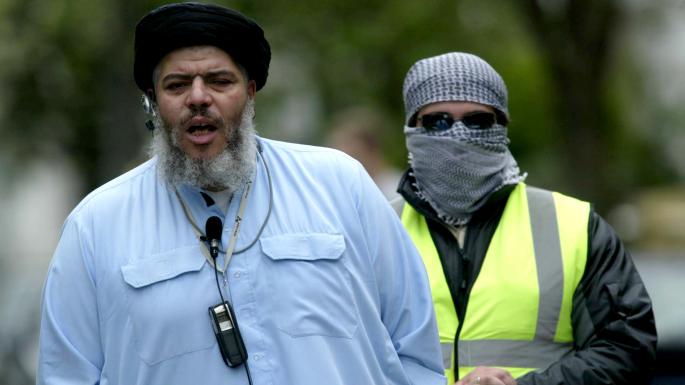 Interestingly Anjem Chodary had planned a similar rally to be held on 3rd March last year outside the White House. 'The event is a rally, a call for the Sharia, a call for the Muslims to rise up and ­establish the Islamic state in America.' He had claimed.
The paradox is that the self-styled preacher is neither a religious scholar nor does he represent any known and established organisation or group. A failed Southampton University medical student, known for his indulgence in un-Islamic acts, from drinking to casual sex, Anjem Choudary qualified as a lawyer and briefly worked with a firm of solicitors.
He then came in contact with Omar Bakri Mohammed, a Syrian born self-styled preacher and was brainwashed by him. According to Choudery's website Omar Bakri will also address his proposed rally in Delhi.
Nothing is known about Omar Bakri's family background and his life in Syria except that he had links with Muslim Brotherhood. After being expelled from Syria in 1982 he settled in Lebanon and joined Hizb-ut-Tahrir, a breakaway group from Muslim Brotherhood established in Jerusalem in 1953. In 1983 he moved to Saudi Arabia where he founded Al-Muhajiroun. After being expelled from Saudi Arabia in 1985 Bakri came to London.
In London Omar Bakri established Hizb-ut-Tahrir (HT) which became active in university campuses and started exploiting Muslim youths' anger against West's policies in the Middle East and succeeded in recruiting them in significant numbers as his firebrand followers. As regards his living, for a number of years Omar Bakri continued to receive unemployment benefits.
In 1991 Bakri left HT and founded Al-Muhajiroun (AM) in the UK. Until 2005 during his stay in London Bakri called himself the spokesman of the International Islamic Front. In this capacity he gave statements on behalf of Taliban as well, making each of his statements more provocative and venomous than before. He boasted to have recruited volunteers to fight in Afghanistan, Israel and other countries.
Omar Bakri, in 1991, also threatened the life of the then Prime Minister John Major and was held by the police for 20 hours and released without being charged. In 1999 he issued a 'fatwa' against Russian leader Boris Yeltsin and called British Muslims to attack Russian embassy. On 18 September 2001, outside the Pakistan High Commission Bakri issued another 'fatwa' – this time against General Musharraf (the then president of Pakistan). It is however very interesting to know that when Musharraf had assumed power in Pakistan in October 1999, Bakri had told his close supporters that he had phoned General Musharraf who had then invited him to come to Pakistan and work for the implementation of Shari'ah in the country.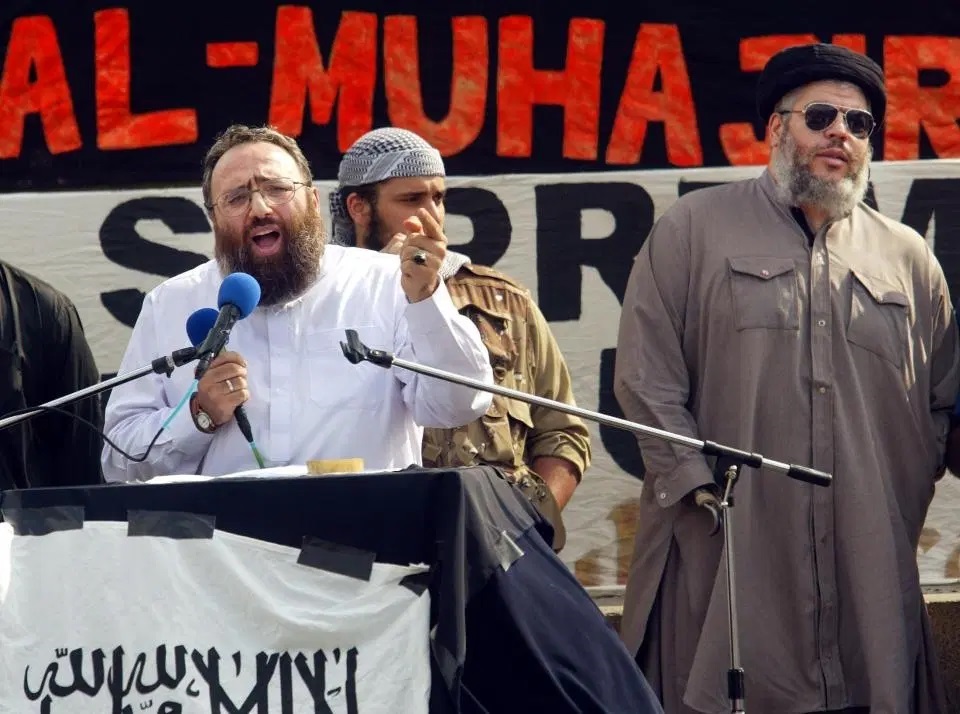 This fake preacher is on record going as far as justifying ruthless killings, in March 2004, of innocent citizens in Madrid, majority of whom would have opposed the alliance of their government in America's war on terror, specially its role in Iraq. 'What happened in Madrid is all revenge. Eye for eye, tooth for tooth, life for life. Anybody (that) commits a crime he should be punished – that's exactly what happened in relation to Spain,' Bakri said.
Urging Muslim youths to 'kill and be killed.' Bakri explained, 'People like to call it suicide bombing…We call it self-sacrifice.' He decreed that 'If somebody decided to land an aeroplane over 10 Downing Street, for example…' he would go to paradise.
The Syrian born provocateur also told the youths that their 'Objective number one' should be to 'break the psychology of the occupier by hitting back in their homeland to make them worried about their own wives and loved ones.'
According to Bakri's fatwa, it is haram (unlawful) for British Muslims to vote and take part in British politics. He even asked Muslims not to participate in the anti-war protests because, he said, the protestors wanted to disarm Iraq and were actually not against the aggression on Iraq.
After the horrific London Bombings, 7 July 2005, also known as 7/7, when Muslims suspected for their links to the bombers were being questioned and arrested, Omar Bakri silently left (some allege was allowed to) slip to Lebanon and resumed his provocation from there. In 2006 during Israeli-Hezbullah conflict the 'brave mujahid' was so frightened that he wrote to the British Home Office pleading to be allowed back on, 'humanitarian grounds' and tried to board the Royal Navy ship evacuating Britons from war-torn Beirut.
In a Radio 4 interview he said, 'I am not appealing now against the decision to give me the right to stay in Britain. I am not appealing for that. I am appealing on behalf of my children who are worried and they want to see their own father. Do you want my little sons or my little family to come now to Lebanon? I don't think you want that.'
How easy it is for these media jihadists to destroy the careers of the children of other parents by misguiding and recruiting them in their scrupulous organisations, have them thus blacklisted, and incite them to commit crimes and suicides and kill and maim innocent people?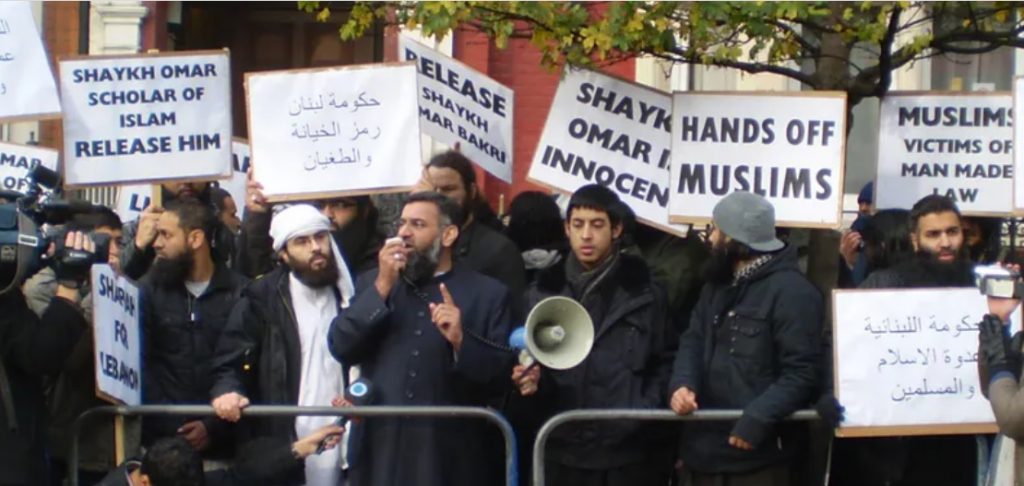 During his 20-years-long stay in London Omar Bakri lived on social security benefits as does his disciple Anjem Choudary and his family. What a common Briton fails to understand is on what grounds these guys are allowed to claim benefits and how on earth are they permitted to say and do anything they like and roam around with impunity.
While'Sheikh' Bakri continues to spit fire through his statements from Lebanon, his disciple in UK, Anjem Choudary, is dutifully following the instructions of his mentor. Last year he warned Muslims in Britain to keep away on 29 April, the day of the wedding of Prince William with Kate Middleton, from Westminster Abbey describing it as a 'highly likely' target of a terrorist attack. The incitements of other offshoots of these groups and the disciples of Anjem Choudary and Omar Bakri include acts like demonstrating and shouting slogans at the funerals of dead British soldiers in Afghanistan, burning of poppies on Remembrance Day (11th November observed to remember war deads) and trying to disturb, by shouting slogans, the observance of traditional silence.
Banning of organisations does not bother them as they keep coming up one organisation after the other. In an interview when British journalist Andrew Neil asked him if he had started disbanding his islam4uk organisation, Choudary replied, 'As a Muslim I cannot stop propagating Islam'. So for this man propagating Islam, incitement and creating hatred are one and the same thing.
Why do such people get so much importance as to be invited in prime talk shows and why are they allowed to carry on their brazenly unlawful activities remains an unsolved mystery for British Muslims.
One such character was Abu Hamza al-Masri who occupied the known Finsbury Park Mosque for years and made the lives of local Muslims difficult. He was arrested in 2004 only after pressure from the US demanding his extradition. May be Abu Hamza had much information to warranty his handing over to the US and reveal many secrets. However, readers may find Abu Hamza's past of interest.
'Sheikh' Abu Hamza arrived in Britain in 1979 to do degree in civil engineering. In 1981 he married an English woman Valerie Fleming and became a British citizen.
Before becoming a, 'sheikh' Abu Hamza worked as a bouncer in a night club. He claimed to have participated in Afghan Jihad during which, according to him, he lost his two hands and one eye. During Afghan Jihad there were known groups led by Hikmatyar, Rabbani and Ahmed Shah Masood etc. and all of the Afghan veterans had to fight under their command but none of them knew which group Abu Hamza was with.
It was neither his sanctity as a Muslim scholar nor his experience as a religious cleric that Abu Hamza was offered the job of an Imam in the Finsbury Park Mosque. For several years power struggle had been going on between the trustees of the mosque who had fought with each other for the unchecked control of the mosque. When one of the most power hungry trustees found himself helpless and less capable of dealing with the adversaries, he conspired to seek the help of someone who had the support of more militant elements. So he brought in Jordanian born Abu Qatada and successfully installed him as the Imam in Finsbury Park Mosque. According to the Times (London 25 March 2005) Abu Qatada worked as a double agent with British secret agency MI5 and had, '…boasted to MI5 that he could prevent terrorist attacks and offered to expose dangerous extremists, while all along he was sitting up a haven for his terror organisation in Britain.'
Abu Qatada, however, left Finsbury Park mosque handing the charge to Abu Hamza. The former bouncer did not only oust the opposite camp but also took care of each and every trustee. He virtually occupied the mosque making it his base camp and turned it into one of the most controversial places in the UK. If any trustee opposed him he was openly threatened of physical violence. Among them is Maulana Shafiullah Patel who had refused to support Abu Hamza. Maulana Patel also ran evening Islamic classes for children. One day when Patel was teaching Qur'an to the children a masked man entered the room and beat him up causing severe injuries. The terrified children, some of them as young as five years old, recognised the assailant by his clothes and said that he was a member of Abu Hamza's gang.
It was in the Finsbury Park Mosque that Abu Hamza ran his Supporter of Shari'ah organisation and allegedly gave refuge to illegal immigrants. It was here that, from 24 to 26 December, he ran a training camp for Muslim youths. His own publicity leaflets described it a 'military' training. The leaflet also carried the photograph of a hand grenade. Abu Hamza also 'celebrated' the attack on World Trade Tower.
In January 2003 Scotland Yard raided the mosque and arrested seven men, including Abu Hamza. According to the police report weapons were found in the mosque. Mysteriously Abu Hamza was later released.
The police seized the mosque temporarily but the trustees found it a good opportunity to keep Abu Hamza out and locked it sine die on grounds of dereliction of the building caused by years of negligence. During this period the mosque remained closed but on each Friday he lead prayer outside the mosque forcing the road to be closed with full protection of the police besides masked men around him.
After a long and interrupted service Abu Hamza is having a nice rest but he has no cause of worry as his cohorts Anjem Choudary at el are dutifully carrying his 'mission'.