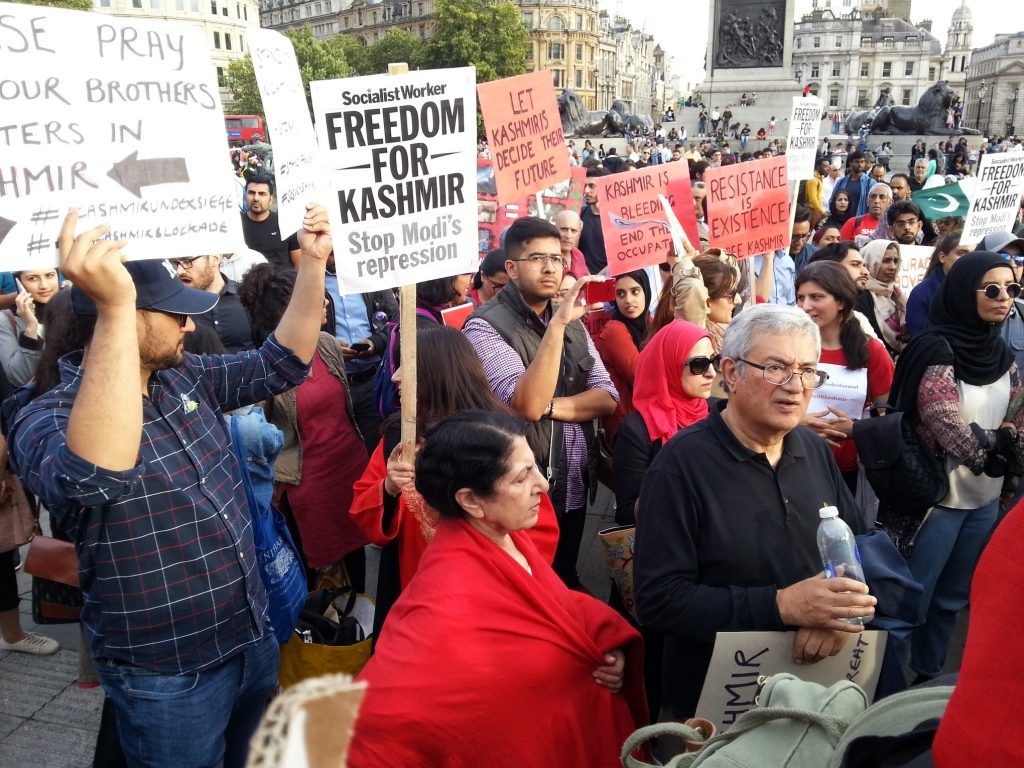 By M Ghazali Khan
LONDON – There were two demonstrations here on Kashmir on India's Independence day, 15th August. The morning demonstration, held in front of Indian High Commission, was organised by Pakistanis and pro-Pakistan Kashmiris, mostly from Pakistani administered Kashmir; the second was jointly called, at London's iconic Trafalgar Square, by Kashmiri Students Action — a group representing students mainly from the Kashmir valley — and by South Asia Solidarity Group (SASG)—a human rights organisation with members from all parts of South Asia and SOAS India society.
The Trafalgar Square demonstration, attended by hundreds of people from different age, ethnic and differing ideological groups, was also supported by a Green Party MEP, Palestine and Sudan Solidarity Campaigns, Imkaan, UK's largest Black and Asian women's organisation and several Indian organisations, including the Indian Workers Association.
Participants raised anti-Hindutva and pro-Kashmir slogan and carried placards with a variety of messages. Speaker after speaker spoke of human rights violations and India's failure to hold plebiscite in Kashmir promised by it in the UN. Kashmiri students spoke out about their anguish at not being able to get any news of their parents and families who are facing food and medicine shortages among other things.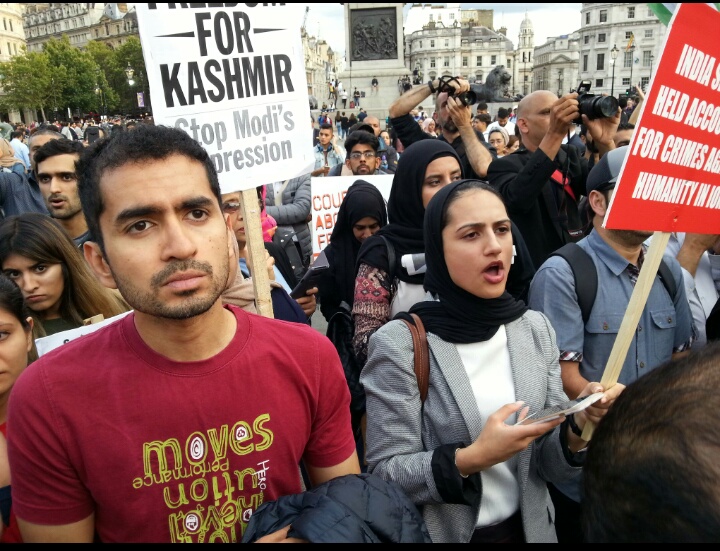 Women speakers expressed utmost disgust and anger over BJP politicians' misogynistic statements in which many of them, including the Chief Minister of Haryana, have assured Indian youth that after the abrogation of article 370 they will be able to bring light-skinned brides from Kashmir.
A statement issued by the SASG said, 'We in South Asia Solidarity Group express our deep solidarity and our unwavering support to the people of Kashmir. Kashmiris are today in the eleventh day of a brutal siege, facing a huge military presence with a soldier outside every home, communications with the outside world cut off, shortages of food and medicines, and constant curfews where even collective Eid prayers were prevented. Almost one-and a half thousand people as far as we know have been arrested including political leaders, human rights activists. Even more disturbingly, children of eleven and even younger have been arrested, held in custody and beaten up by the Army. Many children and young men have been abducted by the Army and disappeared and their families are fearing for their lives.
'On 5 August Article 370 and 35A have been illegally abrogated under cover of night and in the shadow of a gun. But we know that since the 1950s the autonomy supposedly guaranteed by India's Constitution was continuously eroded and especially the last three decades have been a nightmare of human rights abuses for Kashmiris. There have been mass arrests, mass graves, mass rapes. India has become notorious all over the world for its mass blindings of children and young people with pellet guns. And the Kashmiri people have resisted bravely, and demanded self-determination. They have demanded the right, as a nation with 5000 years of history, to decide their own future. They have refused to be treated as a territory to be fought over between India and Pakistan'.
Highlighting the atrocities on Muslims the statement reads, 'We can never forget also that Narendra Modi is known for the genocide of Muslims in Gujarat in 2002 when he was Chief Minister. Today he and his fascist RSS foot soldiers are carrying out brutal mob lynchings of Muslims and Dalits across India. BJP leaders and their friends are raping women with impunity. Right now a 19 year old rape survivor in UP is in a critical condition –she had courageously accused her rapist, a BJP MLA, and a truck was sent to collide with her car. The murderers and rapists are not only acquitted of all crimes but celebrated and congratulated by top ministers in the BJP government.'
Taking a dig at Narendra Modi's Independence Day speech the statement said, 'So it is beyond ironic that today in his Independence Day speech Narendra Modi has claimed that his actions in Kashmir will benefit women, children, Dalits and Adivasis. We know all too well what is happening to these groups in India under BJP rule. We've heard the horrific misogynistic and patriarchal rhetoric of BJP leaders talking about being free to marry Kashmiri women, as if they are property. We've heard through the solidarity team of left activists who returned from Kashmir on Tuesday, women speak out about the sexual assault they have faced from the Army during the midnight raids that have been happening. We've also heard the voices of young women of Kashmir who told the team, that they don't need the Modi government to come and save them. This rhetoric of saving women is exactly the same as that which was used in Afghanistan and Iraq to justify invasion and occupation.'
A memorandum, jointly issued by SOAS India Society, South Asia Solidarity Group, Kashmir Student Action, KCL Kashmir Solidarity Movement, Peace in India and Campaigns Against Criminalising Communities, the participating oranisations list ten demands including: restoration of Articles 370 and 35A; abolition of state Armed Forces (Special Powers) Act (AFSPA) 1958; implementation of implementation of the UN Resolution 47 on a people's plebiscite.