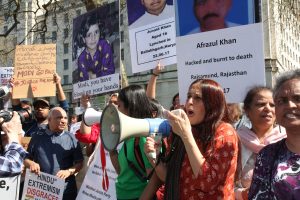 By M Ghazali Khan
LONDON — After a long and exceptionally cold winter in the UK, as Spring suddenly sprang making Wednesday the hottest day of the year so far, political heat here also jumped to the highest degree in Parliament Square where thousands of the British protesters assembled to express their anger against Indian Prime Minister Narendra Modi's UK visit and his rule in India.
Narendra Modi is here on a four-day visit to attend the Commonwealth Heads of Government Meeting (CHOGM).
Holding banners and placards with a variety of anti-Hindutva messages they shouted slogans, "Modi, Modi you can't hide, you committed genocide"; "Modi, Modi shame on you, no more rapes in our names"; "Who killed Asifa? RSS and BJP"; "Who killed Gori Lankesh; RSS and BJP".
A van arranged by South Asia Solidarity Group roams in central London, specially Parliament Sq, displaying slides with messages, 'Modi Not Welcome', 'Justice for Asifa' and giving reasons why Indians are opposed to Modi's visit. pic.twitter.com/QsDhKlrDnj

— M Ghazali Khan (@mkhanghazali) 17 April 2018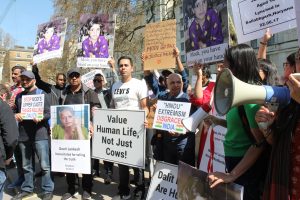 They also carried big photographs of Asifa, the eight-year-old rape victim of Kathua and of those who have been killed by Hindutva extremists including Junaid and journalist Lankesh Gori.
The protesters belonged to different organisations and although assembled in the same area, they remained separate from each other in groups under the banners of their own organisations. The most active of these has been the South Asia Solidarity Group (SASG).
Earlier on Tuesday, SASG had also arranged a digital van roaming with three slides in Parliament Square, Trafalgar Square, Embankment and Downing Street areas of central London, with images several metres high telling the Londoners why Indians in Britain are protesting against Modi's visit and informing them about the horrific Kathua rape of a minor girl and her murder case, and therefore why Modi and the BJP must be held to account.
The van displayed big picture of Asifa with a caption detailing the brutality meted out on her. Another slide with Modi's photo superimposed with "No" sign read, "Modi not welcome, "Modi not welcome" while the third gave the reasons why the protesters were opposed to his visit saying that he is a "Proud fascist and admirer of Hitler"; "Patron of lynch-mobs killing Muslims"; "Protector of rapists" and a "supporter of caste and murderers of Dalits".
The protesters initially gathered at some distance opposite the Downing Street where the official residence of British Prime Minister Theresa May is located. For at least two hours they continued beating drums and shouted slogans and then marched towards Parliament Square where slogans were raised even more vigorously.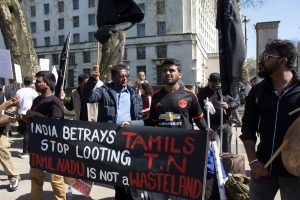 The protest was addressed by several speakers including activist, academic and SASG's member Kalpana Wilson, Satpal Munan of Caste Watch and Ragna Patel of Southall Black Sisters.
In her speech Ms Wilson said that BJP politicians commit crimes and roam around with impunity. She recalled various crimes of murder and rape by BJP men in which no one has been punished.
This report appeared in several Urdu newspapers and portals.
[email-subscribers namefield="YES" desc="Subscribe to our mailing list" group="Public"]