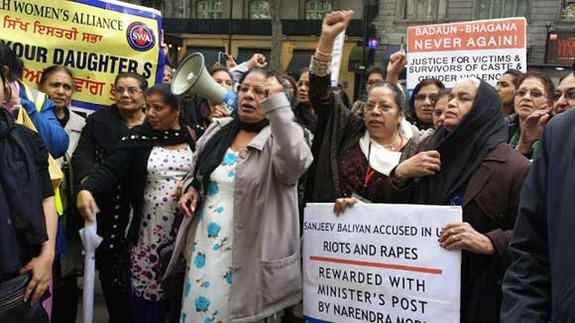 By M Ghazali Khan
London: In a display of unity against unbridled series of rapes and other crimes against women in India, particularly in Uttar Pradesh more than 400 people of various denominations have protested outside the Indian High Commission, 4 June. Protesters included British Dalit organisations, women rights organisations, writers, poets and filmmakers.
They expressed solidarity with the rape victims and survivors of Badaun and Bhagana and their families and outrage against police's complicity and connivance of the local administration in these crimes. There was a visible anger on the faces of protesters against Indian government's protection of the rapists belonging to upper caste and economically powerful class.  They held placards reading, "Modi Parliament Day One: Bhagana Rape Survivors Evicted in Delhi! Is this democracy" and "We remember Bathani Tola, Bathe,Kharlaniji, Bhagana, Badaun…How many more?" and shouted slogans, "UP Government Shame Shame! Modi Government Shame Shame!"
Freedom Without Fear Platform spokesperson Sarbjit Johal said: "While we are aware that sexual violence against Dalit and oppressed caste women and girls is widespread all over India and has been going on for a long time, today's eviction and sexual assault on the Bhagana survivors and their families confirms our fears that things are getting worse not better. We are also appalled by the news that Sanjeev Baliyanwho is a main accused in the Muzaffarnagar riots and mass rapes has been rewarded with a minister's post in Narendra Modi's government. What kind of message does this give?"
A joint letter signed by the representatives of 17 different organisations and addressed to Prime Minister Narendra Modi was also handed to the Indian High Commission.
Shri Narendra Modi
Prime Minister of India
4th June 2014
Dear Prime Minister
We the undersigned women's organizations, South Asian community organizations and Dalit and anti-caste discrimination organizations in Britain are writing to you to express our acute concern about the ongoing horrific attacks on Dalit and oppressed caste women and children across India, including most recently, the appalling gang-rape and lynching of two girls aged 14 and 15 in Badaun, Uttar Pradesh, on Wednesday 28th May. Only two months earlier, four teenage Dalit girls aged 13-18 were raped by 'higher caste' landowners in Bhagana in Haryana, and the survivors are still fighting for the arrest of the rapists.
We note that:
These caste/gender atrocities are not confined to one state but have been occurring across the country – from Bathani Tola and Bathe in Bihar to Khairlanji and Khadra in Maharashtra.

These are taking place with the collusion of the police as recently highlighted by the UN Special Rapporteur on Violence Against Women. In many cases the police themselves are the perpetrators.

There has also been collusion by public prosecutors and the judiciary, which has led to acquittals of the guilty.

Public figures who have been responsible for rapes and murders of minority, Dalit and Adivasi women have been rewarded and promoted – two of the many examples are Muzaffarnagar-accused Sanjeev Baliyan, now made a central government Minister, and Police Superintendent Ankit Garg awarded for gallantry after supervising the rape and torture of Soni Sori.
We urge you therefore to ensure that
In the Badaun case: The police involved in the rape-murders must be prosecuted: In the FIR lodged by the police, the culprit policemen have been charged only with abettment (120B) whereas they should be named as the accused and  Section 166A (which refers to police and other public servants refusing to do their duties) also should be invoked in the case. The government must take measures to guarantee the security of the families of the victims since police are among the accused
In the Bhagana case:The eviction today from Jantar Mantar of the rape survivors and their families who have been forced to protest in Delhi for many weeks must be stopped. Their demands must immediately be met:  all those named by the survivors must be arrested; the Dalit community in Bhagana must be given land and guaranteed security as is their right; full compensation must be provided to the Bhagana rape survivors.
In the cases of the Bathani Tola and Bathe massacres and mass rapes carried out by the Ranvir Sena in Bihar: all those convicted on the evidence of eyewitness survivors have been subsequently acquitted by the Patna High Court. These acquittals must be overturned. The Amir Das Commission investigating the Ranveer Sena which was hastily disbanded before it could make its findings public, must be reinstated.
Sanjeev Baliyan who is a main accused in the Muzaffarnagar riots and mass rapes of Muslim women in U.P. (and has continued to break the law, taking out inflammatory victory processions against Prohibitory Orders) must be removed from his post as Minister of State for Agriculture and Food Processing in the central government immediately.
The Atrocities Act which is specifically designed to address caste violence must be applied in all cases of caste/gender violence against SCs and STs.
Yours sincerely
Sarbjit Johal, Freedom Without Fear Platform
Amrit Wilson, South Asia Solidarity Group
Santosh Dass, Federation of Ambedkarite and Buddhist Organisations (UK)
Ravi Kumar, Anti Caste Discrimination Alliance
Davinder Prasad, British Organisation of People of Asian Origin
Bholi Randhawa, Shri Guru Ravi Dass Mission International (Kanshi TV)
Desraj Bunger, Sri Guru Ravidass Sabha, UK, Europe and Abroad
Satpal Muman, CasteWatch UK
Faquir Chand Sahota, Central Valmik Sabha (UK)
Eugene Culas, Voice of Dalit International
Pastor Raj, Minority Christian International Federation
Baljit Banga, Newham Asian Women's Project
Pragna Patel, Southall Black Sisters
Sumanta Roy, Imkaan
Anjum Mouj, Rape Crisis England and Wales
Balvinder Saund, Sikh Women's Alliance UK
Shahida Choudhury, Women's Networking Hub