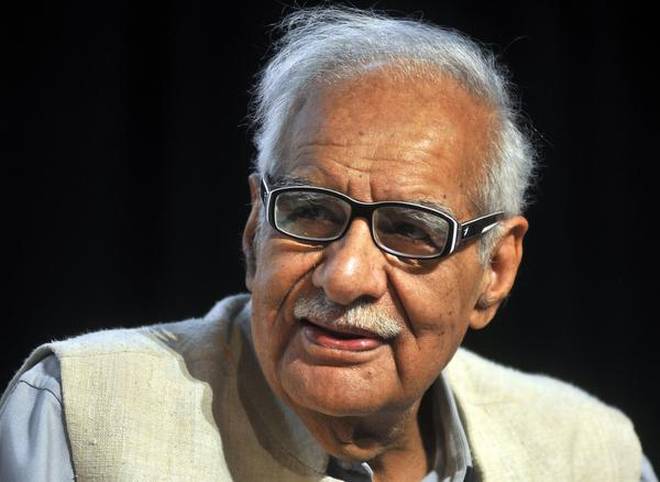 By M GHAZALI KHAN
"My last idol falls" was the heading of this article until I read the news of veteran journalist Kuldip Nayar's denial that he was campaigning for BJP candidate Arun Jaitley standing from Amritsar.
Late Khushwant Singh and Kuldip Nayar have been my idols in journalism in India. I lost one idol in Khushwant Singh's death, 20 March 2014, and the news, impossible for me to believe, of his support to Jaitley made me feel that I had lost my second and last idol too. And now his denial that he had not gone to Amritsar to campaign for Jaitley has brought a great sense of relief.
Khushwant Singh and Kuldip Nayar both had migrated from Pakistani Punjab to India as refugees. Unlike those who, as a result of their bitter experiences of partition stoked anti-Muslim feelings—BJP's Lal Krishna Advani, for example— both of them stood for principles, fairness and justice.
Both spoke and wrote against intolerance and fanaticism of all kinds and stood as the embodiments of objectivity and humanism. Although both ardent Urdu lovers, Nayar has been actively supporting the cause of Urdu.
My memories of Indian Express's bold journalism under Nayar's editorship go back to my high school days when I saw one of my English language teachers, also a Punjabi migrant, grumbling at the newspaper delivery boy for dropping Times of India or Hindustan Times instead.
Nayar's daring criticism of government policies earned him Mrs Gandhi's wrath and took him to jail. I was a student at AMU when Nayar's book Judgement came out in 1977 and I remember borrowing it from Maulana Azad Library and reading it with keenness.
The first time I saw Mr Nayar was in AMU's Kennedy Hall auditorium where he had come to address a seminar organised by National Integration Society. I remember him vividly taking on Kalimuddin Shams, the then Deputy Speaker of West Bengal Assembly, for his fiery speech.
"Kuch taqreeron ke doran mein aankhen band kar ke beth gaya aur mujhe aisa mehsoos huwa keh men san 47 men hun" (During some of the speeches I closed my eyes and I felt as if I was in the year 1947). He said and warned, "aisi zuban aur aisi talkhi aap ko tabah karde gi." (Such tone and language and such bitterness will destroy you).
His body language, sincerity in what he was saying and courage was bound to impress everyone. He has been known for his integrity and courage of conviction so no one in the packed hall dared to question him.
He was close to the student leader and President of AMU Students Union late Jawed Habeeb. Perhaps it was on the second day that Students Union gave him a warm reception at the Students Union Hall in which he was offered life membership of the Union.
But instead of accepting Habeeb's offer immediately, he went straight to the mike and asked if anyone had any objection. "No" came the resounding response and he accepted the membership.
Advising the students to have a positive approach in life in his speech Nayar said that when he came to Delhi as a refugee in 1947 he slept on foot path and the first job he got was with an Urdu newspaper that had, before the partition, supported Muslim League. "My duties included working for the newspaper as well as tutoring editor's children and because I was not good in maths my salary was also reduced." He said in his speech, "Once the editor had to go out of the city and I had to officiate the editor and had to write editorial for the next day. While I was still thinking about the topic I received a letter from an angry reader asking if we still believed in the two-nation theory. 'Yes we do' I wrote in the editorial 'One is rich and the other is poor'."
The next time I saw him was in the Indian High Commission, London in 1990 with a delegation when he was serving as the High Commissioner. To be honest in view of the cancellation of a reception/dinner to be hosted in his honour by Indian Muslim Federation, which I was also associated with, I was embarrassed to be part of the delegation.
I was opposed to the cancellation announced as a result of anonymous phone calls claiming to be Kashmiri separatists and threatening violence and disruption of the program. Naturally, he was unhappy at the cancellation and mentioned it in the meeting but in a light and dignified manner.
The news that now he was campaigning for Jaitley had taken me to my old memories and seeing this uncharacteristic change in him not only made me sad but greatly disappointed.
It was hard to believe that a highly principled man, a human and civil rights activist and a stalwart in journalism would support the candidate of a party he has been continuously condemning as sectarian and divisive and about which he had written, "Blinded by fundamentalism, the BJP is unable to see the writing on the wall. Muslim jihadis have destroyed Pakistan and put on the country's back the army which refuses to return to the barracks. The Hindutva jihadis are out to install in India a theocratic state. The BJP cannot even conceive what type of forces they will unleash. Its own leadership may be the first victim. But one thing is certain: India, a secular, democratic nation, will cease to exist. Playing the communal card for power is suicidal, but playing it for governance is a national disaster."
In response to a question about the purpose his visit to Amritsar Mr Nayar said, "Yahan pe election Lok Sabha ka ho raha hai aur us men Arun Jaitley khada hai. Arun Jaitley ek honihar, imandar bada padha likhkha aadmi to hai. Lekin meri ek family ka member bhi hai. Vaise men is men nahin jata keh us ki party kiya hai vaghaira sab. Woh apna jo men likhta huN. Lekin kionkeh yeh apna ek azeez hai, apna family ka member hai. Uska, Arun Jaitley ka ek aur pehlu jo mujhe achcha lagta hai keh woh chahe Punjab se bahar hai. Jaise men bhi Dilli men rehta huN…Lekin meN to apne aap ko Punjabi kehna fakhar samajhta huN. Aur woh bhi Punjabi hai. To is liye woh Punjab ka bhi kaam kare ga aur Amritsar jahan se woh election ladraha hai who zaroor kare ga. Kionki ab jo bhi government aai gi us men us ka bohat bada role hoga.
(Lok Sabha election is being held and Arun Jaitley is contesting. Arun Jaitley is an efficient, honest and well-educated person but [in addition to it] he is a member of my family too. I am not going into which party he belongs to. I have been [expressing my views about it in my] writing[s]. But as he is a relative of mine and a family member. There is one more aspect of Arun Jaitley's personality that I like. Even if he lives outside Punjab, as I live in Delhi…But I feel proud in calling myself a Punjabi. And he is also a Punjabi. So he will work for Punjab as well as for Amritsar from where he is contesting the election. And whatever government that is going to be formed he will have an important role in it."
In response to a question (that seems to have been edited out of from the clip) whether he intends to join the BJP he vehemently retorts saying, "Toba toba kioN aisi bat karte ho? BHAJPA [BJP] ya kisi aur party… khaskar ke BHAJPA [shakes his head denying the charge]… MeiN to sif isliye ayah huN ke Arun Jaitley jo hai meiN samjhta hun woh ek bohat achcha aur imandar aadmi hai. Aise jo ummeedwar hain unhen Lok Sabha men hona chahiye (God forbid why do you talk like this? I have come [to campaign for him] because I feel that he is an honest man and honest people like him should be in Lok Sabha.)" He denied that there was Modi wave in the country.
In today's political environment of opportunism in which loyalties are being sold every hour and principles are being violated as a norm such a news about anyone else would not have been such a big cause of concern.
Each day we read news about politicians, due to sheer expediency, sacrificing decency and integrity and leaving old parties to join opposite camps.
From the above transcript it is quite obvious that Nayar's decision to campaign for Jaitley was influenced by his love and affection for a relative he believes is a good human at heart but happens to be in a wrong party.
However, the realization of his mistake and immediate retraction—which I have no right to disbelieve — and correction of it is a bold decision that has increased his stature even more. There is no doubt that the news of someone like Nayar supporting the member of a party he has always opposed and criticized had shocked his admirers and his retraction will be a source of great sense of relief, gratitude and admiration for him.