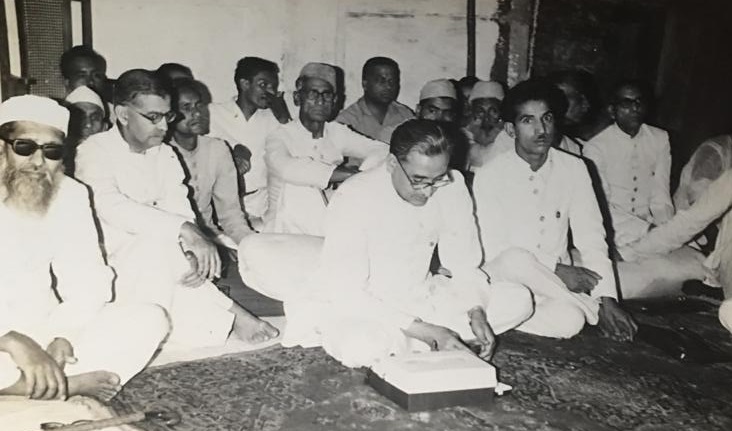 Last month, May the 19th, marked the 46th death anniversary of Dr Abdul Jalil Faridi, a selfless leader of Indian Muslims, who has been forgotten not only by the Muslim community but even by those to whom he had done personal favours.
Dr Faridi was one of the leading TB experts in the country, enjoyed a very high status and was highly respected within and outside the community. Had he embraced opportunism—the prevalent culture of the day—he would have been bestowed upon high positions by the ruling and strongest political party of his time, the Congress, and might even end up by occupying the seat of Vice President or President of the country. In post independent India, perhaps, no political leader among Muslim could match him in selflessness, sincerity, sacrifices and commitment.
He had a dream to unite and bring the community on one platform under the banner of a strong Muslim political party for which he formed the All India Muslim Majlis.
Although in the 70s Muslim Majlis became a force to reckon with, today this is no more than a letterhead organisation. The speed with which, within a span of a short period, it emerged as a political force, challenging even the Congress, cannot be imagined in today's political and social environment.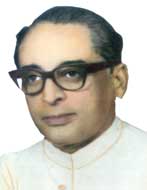 Looking at Dr Faridi's extraordinary achievement, he should have been a role model for Muslim politicians of today. But, sadly, he has been completely forgotten and specially the younger generation is unaware of this remarkable personality. As a tribute to Dr Faridi's contributions, a portrait of him hangs in the AMU Students' Union Hall but, perhaps, even the student leaders would not know who that great person was let alone a common student. This is despite the fact that Dr Faridi was the prime campaigner and leading fighter in the struggle for the restoration of AMU's minority character. In his sincerity, dedication and sacrifices for the community he did not have a match in his life while in the present political and social environment this is impossible to think of a person like him.
The first time when I heard Dr Faridi's name was in 1972, when I was about 14. Dr Faridi had given a call to protest against government's intransigence not to restore the minority character of AMU and to stop these protests 144 was imposed prohibiting any protest or gathering. But not to be deterred by government's tactics to terrorise the community, Dr Faridi came out with a novel idea and instructed his supporters all over the state to raise black flags on their rooftops, tie black badges on their shoulders/arms and organise speeches in mosques after Friday prayer. In my ancestral town, Deoabnd, there were two brothers, Qamar Kazmi (one of the most active and longest presidents of Muslim Majlis from 1989 – 2003) and Badar Kazmi, who were the flag bearers of Muslim politics in the town.
I remember one night before the day when black flags were raised, the walls in Deoband were painted with slogans demanding restoration of the minority character of the AMU. The person who had written these slogans was a young man of the town, Badar Kazmi. Being senior to me in age, I call him as Badar Bhai [brother Badar]. Despite limited resources, Badar Bhai had also brought an Urdu fortnightly Manshoor.
To my knowledge, if anyone is still carrying the flag of Muslim Majlis and trying to keep it alive, it is Badar Bhai. For his straightforwardness he has made many enemies. On several issues I too have many differences with him. But the fact is that he has excellent talents in writing and public speaking and Allah SWT has blessed him with an attractive personality. Had he compromised on his principles and chosen the path of opportunism, many political parties would have seen him as an asset and would have recruited him offering high posts. Badar Bhai is Hafiz-e-Qur'an as well and during the last Ramadan, after a long period, rehearsed it in the Taraweeh at his home.
This was a rather long introduction. But to introduce Badar Bhai it was essential so that the readers understand his stature and relate to what he has to say on the rise and decline of Muslim Majlis and Muslim politics in 1974. Below is the translation of a frank discussion with Badar Bhai containing some revealing information, especially for the younger generation—Ghazali
Ghazali: As far as I know you are one of the few who are still flying the flag of Muslim Majlis and trying to keep the organisation and the name of its founder, Dr Abdul Jalil Faridi, alive. At one time this organisation emerged as a successful Muslim political party and a force to reckon with but today it is merely a letterhead organisation. I want to hear from you about Dr Abdul Jalil Faridi and the story of Mushawrat's rise and decline.
Badar Kazmi: Sadly, late Dr Saheb could not see the rise of Mushawrat. It reached to the peak of its success in 1977 and Dr Saheb had died in 1974. Muslim Majlis was established by Dr Saheb in 1968. As far as I remember it was 1971. I was young then. Some of Majlis's members, including Iqbal Khan, came to Purqazi [a town in District Muzaffarnagar] to Bhai Saheb. He had left Kanpur where he used to edit Majlis's mouthorgan the Qaid and had setup a sugarcane crasher.
Majlis had announced a public meeting in Roorkee. They requested Bhai Saheb to accompany them. I joined them as well. When we reached the place where the meeting was to be held, we saw just a few people there and these too were the organisers themselves. There were people there, but they were either on the rooftops of their houses, mosques or in nearby restaurants. Perhaps it was the green flag with a star on it that was deterring them. They might have been scared because the emergency had been recently lifted during which they had seen, read about or experienced the cruelties of the Congress, the party in power. The speakers came to the microphone as their names were announced and delivered speeches. Slowly and gradually people started coming and abut 100 – 200 gathered there. This is how the ball was set rolling.
In 1968 Dr Saheb had made an alliance with Republican and Backward Class Forum through which, by the grace of Allah, we succeeded in having five of our MLAs elected to UP assembly. This included three Muslims: Naseem Siddiqui from Kanpur, who died recently and was then a young lawyer; late Habeeb Saheb from Allahabad; Shah Abul Fazal from Ghazipur, a highly educated man who had also served at the UN; and two Dalits: Nanhe Lal Karail and Chote Lal Nirbhaya.
In 1974 Majlis and Samyukta Socialist Party (SSP) formed an alliance. In 1971, under the pressure of Shekih Abdullah, Dr Saheb also entered into an alliance with the Congress. Mrs Indira Gandhi won the 1971 elections with a thumping majority but did not keep even a single promise she had made with the Majlis. Only after a short period the war of Bangladesh's liberation broke out.
Here I must narrate an incident that proves that no matter what you do, the leadership of the so-called secular parties will never trust you. Notwithstanding that Dr Saheb, purely on humanitarian grounds, had supported the war of liberation of Bangladesh because of the atrocities committed by Pakistani army in what was then East Pakistan, only to judge Dr Saheb and observe his reactions one day Mrs Gandhi called for him and said that she was thinking to merge Bangladesh with India. To this Dr Saheb's immediate response was, 'What can be more pleasing news to me than this, as this would increase the ratio of Muslim population in India and will give me more representation in the parliament and assemblies?'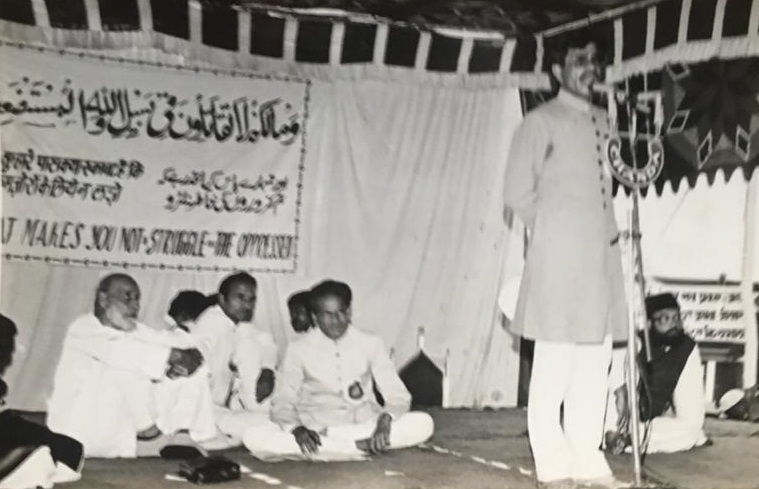 Anyway, by 1974 Dr Saheb had lost all hopes with Mrs Gandhi with regard to Muslims' demands. Therefore, in 1974 Majlis made an alliance with the SSP. This was the time when in 1973 the movement for the restoration of minority character of AMU had already been started for which we went to jail under the leadership of Dr Saheb. During those one-and-a-half months in jail, about two to four SSP MLAs were also with us. However, we were released by the court after which Dr Saheb  put me in charge of UP. I was about 24 years then.
I organised a conference in Meerut which was very successful. During this time, I took Assaduddin Owaisi's father, late Sultan Salahuddin Owaisi, on a tour of western UP and organised Majlis' public meetings in various districts. Owaisi Saheb addressed these meetings expressing his support for Majlis.
As a result of 1974 alliance, we were able to get our five MLAs—Habeeb Saheb, Masood Khan and two Dalits [and the fifth one?]—to UP assembly. At that time Dr Saheb's health started deteriorating. He often used to look at his hands and say with a smile, 'I am a doctor and have no idea about my condition.' He was himself a TB specialist yet fell victim to this dreadful disease. He had even travelled abroad for his treatment. Doctors had strictly advised him to have complete rest. His lungs had already been infected. Inhaling dust in those long and arduous journeys during the 1974 elections his health deteriorated even further and at last he left for his heavenly abode.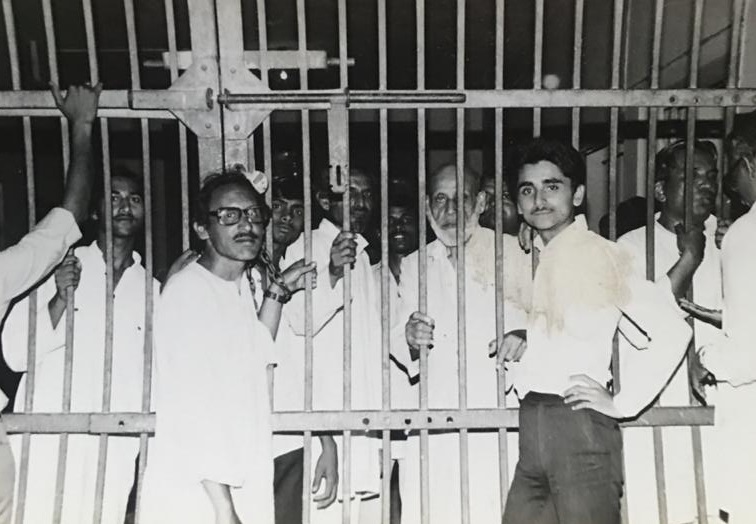 By 1974, due to his untiring efforts, Dr Saheb had succeeded in bringing together the BKD, led by Choudhary Charan Singh and SSP, led by Raj Narian. However, this alliance had not yet become a recognisable force. Nevertheless, it had started working.
After Dr Saheb's death, Habeeb Saheb was elected as Majlis' president. Under the leadership of Al-Haj Zulfaqarullah saheb, he continued working on Dr Saheb's mission. Later, when emergency was declared, all political parties, including Majlis, were banned and political leaders were imprisoned.
Soon after they were released, 11 parliamentary seats in UP were decided to be given to Muslim Majlis. But, ironically, Majlis could not get Muslim candidates to field and, thus, only two candidates of Majlis—Al-Haj Zulfaqarullah from Sultanpur and Basheer Ahmad Khan Advocate from Allahabad—were elected.
In the UP assembly, Majlis put up 10 candidates of which eight won and two, including Azam Khan, from Rampur, and Syed Assad Hussain, from somewhere near Amethi, were defeated. Azam Khan lost the election twice, in 1974 and in 1977. Assad Hussain Saheb was elected as Majlis' president in 1984, but died very soon.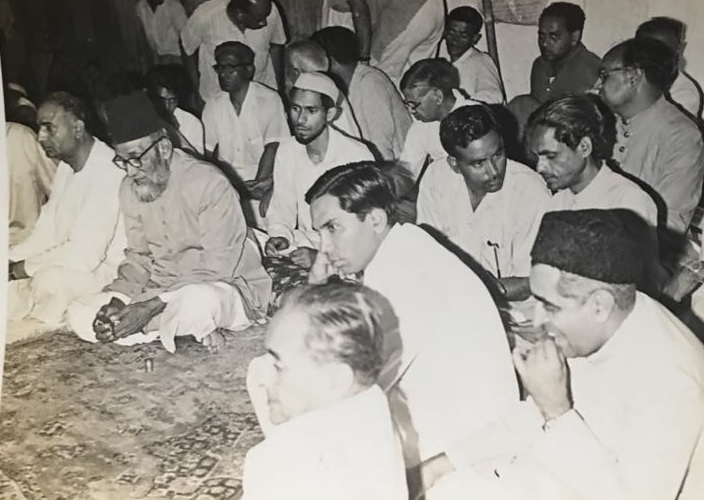 That was the time when Choudhary Charan Singh, having worked with Majlis' members and having seen them very closely, was very impressed with their honesty, hard work and integrity. Such was his trust and confidence in them that he had decided to give the post of the Chief minister to a Muslim, Habeeb Saheb. There have been many misunderstandings and rumours about Chaudhry saheb but he was a very fair-minded person. He was the one who used his influence and brought out Muslim zamindars, who, after 1947, had withdrawn from public life, and fielded them on BKD's tickets. This included Saeed Murtaza, Ghayyoor Ali Khan, Mehmood Ali Khan, Rafey Khan etc.
But H. N. Bahuguna was not happy with these developments. He used Raj Narain and told him that once again the Muslim League was being revived. Raj Narian opposed it [the idea of Habeeb Saheb being appointed as Chief Minister]. In his opposition to it he became so intransigent that he got Ram Naresh Yadav—who, at that time, had only the experience of district board politics and was in assembly for the first time—installed as the chief minister. This was an inside story and was not allowed to come out.
During this time Habeeb Saheb kept being unwell and was often on dialysis. Masood Khan from Azamgarh, a lawyer by profession, and some other guys tried to get him side-lined. Masood Khan got himself appointed as PWD minister and Arif Muhammad Khan as Deputy Minister. Even after this Habeeb saheb dealt with the situation with dignity and accepted this development in a graceful manner.
During this period Habeeb Saheb's health was continuously deteriorating. With that he had developed some issues with Janata Party. At the same time, following the death of an MLA in Azamgarh, a byelection arose in which Mohsina Qidwai stood on Congress ticket. Habeeb Saheb put some demands before Choudhary Saheb that he refused to accept. After this Habeeb Saheb and Majlis openly supported Mohsina Qidwai and she won the election. As a result, Arif Mohammad Khan had to resign. Following this he joined the Congress.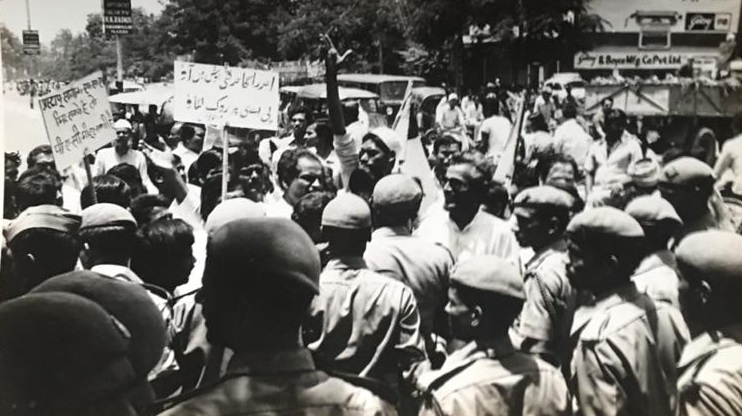 Ghazali: Was Arif Mohammad Khan elected on Majlis ticket?
Badar Kazmi: All of the Muslim candidates, including Arif Mohammad Khan, fought the election as Janata Party candidates. But all of them were given tickets on Majlis' quota. Now coming to your question about the rise of Majlis, the rise was that Alhaj Zulfaqarullah Saheb was made Finance State Minister in the centre and customs and excise, etc., were under him.
Until now Majlis was working with its own identity. But differences arose between the Sanghis and the socialists [For younger generation of readers who many not be aware of this, Janata party was the coalition of opposition parties, including Bharatiya Jana Sangh that had come together after the emergency to defeat Mrs Gandhi's Congress], as a result a deadlock arose and the government fell. When the new government was formed and Chaudhary Charan Singh became Prime Minister, Zulfiqarullah Saheb was given the portfolio of Post and Telegraph. But differences arose with Chaudhary Saheb. Chandara Shekhar was leading the defecting group. He was a socialist and was also one of the fair-minded politicians. We went with him. There was a re-election. Bhai Saheb stood from Saharanpur and due to ballot ragging lost only by five thousand votes. Zulfiqarullah Saheb contested from Kerana and lost too. Thus, soon after its rise started the decline of Majlis. However, until 1989 Majlis continued to represent itself in UP assembly.
Again, there were elections in UP in 1985 and two candidates of Majlis won, Fazlul Bari Saheb and another gentleman whose name I cannot recall. I contested from Deoband. That was the first occasion when Muslims of this town unitedly voted for a single candidate. The extreme of it was that, I cannot say it about Maulana Asad Madani's family, but even the members of the family of Maulana Usman Saheb [a veteran Congress politician and chairman of Deoband Municipal Board] had voted for me. But, sadly, the voting ratio of Muslims in those days used to be only 25- 30 percent.
This was such a challenging situation for Thakur Mahabir Singh, who had been an MLA for the last 25 years, that he used every possible trick to misguide the voters and went around inciting the constituents by asking, 'Will you make me lose at the hands of a young lad and create a second Pakistan?'
By this time the political culture of the country had declined and the success in it started to depend on money. Now only if you have money you can stay in politics, otherwise there is nothing for you here.
By 1989 Babri Mosque issue had intensified. In 1991 Bhai Saheb organised Insaf [justice] rally all over UP. He had only one demand: we must trust the apex court and communal harmony must not be harmed. He was particularly appealing to the Hindus and telling them that the atmosphere should not polarised by bringing the dispute to the streets. He said that let the court settle the dispute and whatever the outcome, this should be accepted by everyone.
Come 1991, Bhai Saheb began staying anxious. I think he had also started writing the history of the dispute.
Before I forget, I should also tell you about an important incident. The day when Babri Mosque was unlocked, Bhai Saheb and Fazlul Bari Saheb were travelling by train from Lucknow to Delhi to attend a meeting the next morning. I do not remember correctly if the scheduled meeting had been called by Muslim Majlis-e-Mushawrat or by Muslim Personal Law Board. There were one or two Sanghi MLAs in the same compartment. Fazlul Bari, who had gone to sleep, was woken up by one of them saying, 'O Qaid-e-Azam, Babri Mosque has been unlocked and [Hindu] worship has been initiated in there.' He held a newspaper in his hand. Bari Saheb took the newspaper from him, had a look at it and handed it back to him he said, 'It's alright. By the day after tomorrow it will be locked again.' He was shocked and surprised and said, 'O Qaid-e-Azam! What are you talking about?'
The next day they attended the scheduled meeting. Maulana Mannatullah Rehmani, Syed Shahabudin and many known leaders of the community were present in it. Fazlul Bari Saheb put a suggestion before them and said, 'They [the government] have said that the mosque has been unlocked because there is no danger to public order. Therefore, let this meeting decide and make an announcement that we will offer next Friday prayer in Ajodhya and that Maulana Ali Mian will lead the prayer. I will bring enough crowd from Basti, Bahraich, and Azamgarh and they will have to put the lock again. If we do not do anything now, we will have to face a situation worse than 1947.'
At that time, we had no idea that the religious leadership in their meeting with Rajiv Gandhi had agreed that if the government changed its stand on Shah Bano case, Muslims will not show any resistance on Babri Mosque. In the meeting Shahabuddin Saheb shed tears and rest of them remained quiet. May Allah bless the soul of Fazlul Bari, he pleaded repeatedly and said that the issue should not be allowed to turn into a movement. He said that it was necessary to stop it from becoming a movement and the only way to do so was that Muslim leadership showed courage and made an announcement to that effect. He promised to bring a crowed after which the mosque would be locked again.
On 6th December, Babri Mosque was demolished. Muslims were pushed to the wall. Muslim leadership ceased to have any weight. Anti-Muslim riots broke out all over the country. Even a town like Deoband, where there was no disturbance even in 1947, could not remain safe from this fire of hatred and four people died.
Ghazali: Please tell us something about some of the characters in this story who used Muslim Majlis as a jumping pad to launch themselves into politics and crossed all the limits of opportunism.
Badar Kazmi: Student leaders of AMU who came very close to Dr Saheb included Azam Khan, Arif Mohammad Khan, Akhtarul Wasey. Javed Habib, Z.K. Faizan and a few others. Only after his death was it found out that Dr Saheb supported some of them financially as well. I can't reveal their names. After that, all of them disappeared. For example, Azam Khan fought 1974 and 1977 elections on Majlis' ticket. In 1980 he went away with Choudhary Charan Singh and then joined Mulayam Singh and slowly even stopped recognising old friends. So, this is more an issue of serving personal interests.
The same is true about Arif Mohammad Khan. Piloo Mody had asked Dr Saheb to give Arif Mohammad Khan to him. 'Give this young man to me'. He said. At that time Biju Patnaik, Piloo Mody, Raj Naraian and Charan Singh had entered into an alliance. So Arif Khan went with them. However, he became a minister on Majlis' quota. His major differences with the community arose at the time of Shah Bano case controversy when he delivered a speech in the parliament. The speech was written by Akhtarul Wasey. It was the time when he took a turn and devoted himself to studying Islam. [After the publication of Urdu version of this interview on this blog, Akhtarul Wasey has denied that the speech was written by him: Ghazali]
And it's not only him, a man like Mohammad Masood Khan, May Allah SWT bless his soul, who had become a minister on Majlis' quota, too left Majlis and joined Charan Shingh and was sent to Rajya Sabbha.
Ilyas Azmi, who has been an MP twice, once from Samaj Wadi and another time from SP. He too has left Majlis. But one must admit that unlike others Ilyas Azmi Saheb has not forgotten Dr Saheb. Even today he remembers him and often mentions his name.
Alam Badi Azmi is a Smajwadi MLA. He fought two elections under Majlis' banner. He is too old now. May Allah bless him with health and a long life. But not even by mistake does he mention Dr Saheb's name. Whenever he talks, he talks about Mulayam Singh. I just feel amazed at these guys.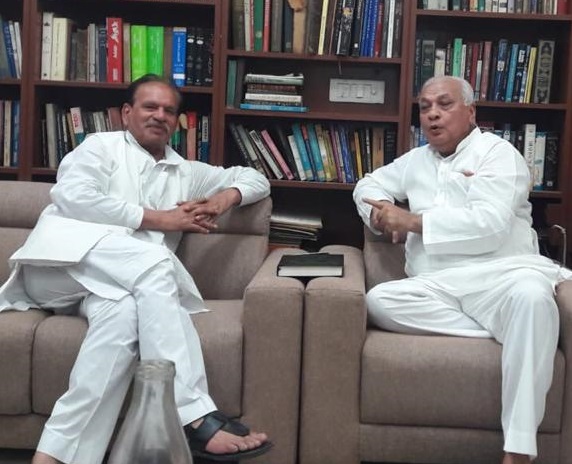 Ghazali: Of all the personalities you have talked about, Azam Khan and Arif Mohammad Khan are most prominent. In 1972 when I was very young, I remember the photograph of the then president of students' union, Arif Mohammad Khan and Honorary Secretary Akhtarul Wasey, along with others, on a sit-in protest in front of parliament house. Next day came the news of their rustication from the University. I remember how sad I was. Then in 1974 when I joined the AMU I saw Arif Mohammad Khan at the room of a senior. When I shook his hands, I had a feeling of immense pleasure and awe. As Arif Mohhamd Khan left, I heard another senior saying, 'He is a great opportunist. Soon he will join the Congress and will change his Qibla. Similarly, Akhtarul Wasey will be offered lectureship and silenced. I was very sad and disappointed when I heard such opinions about them. However, Akhtarul Wasey has not sold the interests of the community. He said goodbye to politics and went into academics. However, as far as Arif Mohammad Khan is concerned, he took a principled stand on Shahbano case but the image of him to emerge later is that of someone who, due to differences with his brother, stoops so low that he joins hands with an avowed enemy of the family from whom even the honour of the womenfolk is not safe.
Badar Kazmi: Until he had not joined the Hindutva camp, I regarded him as someone who could be forgiven. However, I cannot defend the role he is now playing. The way he was treated and humiliated in the wake of Shahbano case, specially by the religious class, he thought that he was being politically murdered. And it is not that the attacks on him were merely verbal, he was also subjected to physical attacks. There were three attempts on his life. In one of these, in the funeral of Professor Mujib, he was struck with an iron bar on his head. This one could have been fatal. He had to be taken immediately to All India Medical Institute. There the doctors said that if he had been delayed by 10-15 minutes he would have died. This incident distanced him and took him very far from us. I think after this incident his comeback to the community became impossible. Already he was not happy with the religious scholars but after this incident his hatred towards them crossed all limits. After this incident he changed his direction completely. I met him about two years ago. I can show you the photograph with him.
I told him, 'Brother, let the bygone be bygone. You can still help the community and provide leadership to it. Today's situation is not what it used to be. There is a large section within the community that does not agree with the religious scholars on the issue of Muslim personal law. I am one of them myself. At that time, on this issue, I was against you. But after studying it deeply, I found out that Muslims' stand on it was wrong.' But he became furious. 'What are you talking about' He said. 'Which community are you talking about? This is an undisciplined crowed. No one wants to listen to reason. They have been after my life. What can I do for them?'
I said, 'Just a particular section is not the whole community. Show some courage. Come out and talk to the community. Tell them about the role we should play in this country. Just like Dr Saheb could not be accused of sectarianism, you too cannot be accused of it. This way you can regain your respect within the community. But for this you will have to be patient and persistent.' He did not agree with anything, adding that he had left politics for good and would devote himself to studying and research. Then, as soon as the BJP came to power he was appointed as the Governor of Kerala. You may or may not agree with me, the fact is that Muslims' salvation lies in getting rid of mullaism.
Ghazali: The mullaism you are talking about, be it the religious leadership or the traditional leadership all of them have been side-lined. What is important for me is the fact that a great change is already discernible in the thinking of the madrasa graduates. However, as far as opportunism is concerned, no one becomes an opportunist suddenly. Such people have ingrained germs of this moral disease. The name of Javed Habib comes to mind. He faced all sorts of hardships but did not compromise on principles.
Badar Kazmi: He was a sincere man. He was sincere to the community as well as to Islam. He had no personal agenda. One thing you need to understand is that the generation and the individuals in it who were sincere to the community, who were Godfearing and who held the interests of the community close to their hearts have gone to their graves. Today's politics is of selfishness and self-interests. If anyone has left some love in him for the community, this comes second. The first preference is to build your own life, community comes after that. Better recognise this reality. Some of those from the older and selfless generation who are still alive are like the flickering light of the morning lamp and are about to extinguish any moment.
We were talking about ideological commitment. In the name of Majlis what we have today are the letterheads and a few banners. You cannot regenerate the zeal of the past. Those generations are gone. Take the example of Maulana Hussain Ahmad Madani. No matter how much one differs with him. This was the man that when the Padama Shri award was offered to him, he refused to accept it and returned the money saying that that was not what he had served the country for. This proves that the man had a character and that his objective was not to serve self-interests. Now look at his children. They are before you. Arshad Madani was praised for fighting for the youths implicated in terrorism. Because of this I too had developed a soft spot for him. But then came the news of his connections with the intelligence agencies and that he gets some of the youths released and some are made to make false confessions and are left to continue to suffer in jails. His former lawyer Mahmood Paracha has also said it.
To date, Arshad Madani has given no details of his meeting with Mohan Bhagwat. However, the impact of this meeting was that when Mohan Bhagwat said that every citizen of India is a Hindu, he supported him and said that there was nothing wrong in Bhagwat's statement. In order to support him, he referred to Lughat-e-Majazi and even recited couplets. So he has no problem in calling himself a Hindu. And then come his statements alleging that these people [RSS and Hindutva forces] are taking the country towards a Hindu rule.
Mahmood Madani says, 'We rejected Nizam-e-Mustafa'. He says Muslims are Indians by choice. What nonsense! Those who were Indians by choice have long died. Your ancestors [who chose to live in India in 1947] could say this. How can you make such a claim? Indian Muslims are Indians by birth. They have equal rights on this land. What the hell do you want? Why on earth are you creating confusion in the community? He travelled all the way to Geneva, held a press conference there and said that he was with the government on the issue of Kashmir. After coming back, he claimed to have taken the hit of the bullet on his chest. How can any sense of self-respect survive in the community in such circumstances?
However, during anti-CAA demonstrations one good thing has happened and it is that the traditional leadership, be it the 'Mr' or the 'Mulla', all of them have been sent home. As a matter of fact, I will say that like the AMU had played its role at times in the past, Jamia has played its role now. Holding the tricolour in their hands they came forward with the ideology of their founders, asserted their identity as Indians and impressed the whole country. It was after this that demonstrations started all over the country. This is what our conduct should be. It is not that we do not respect the national flag. But if those attacking us are trying to polarise the situation using this issue, let us display our respect to the national flag and the constitution and assert our identity as Indians. Anyway, no one really knows which direction things are going to go.
Ghazali: Among the present leaders one sometimes looks up to Asaduddin Owaisi. What do you think about him?
Badar Kazmi: Let me remind you that on the abolition of Art 379, when there was a complete silence in the community and no Muslim politician was showing the courage to say anything, Owaisi took a clear and bold stand. On this I supported him wholeheartedly. I said that what Owaisi had said was the united voice of the Muslim community.
At one time his late father had helped us. So, we had a soft spot for him. We tried to contact him. You will remember late Saleem Peerzada had written three letters to him but he did not bother to even acknowledge the receipt, let alone replying.
At present, when all of us have failed and due to lack of resources and scarce means, we are unable to do anything, Almighty Allah has blessed him with means and resources. He has immense wealth. I wanted to cooperate with him. This was my wish. We never wanted him to give us positions or party tickets. What we wanted was him to sit with some seniors in different parts of Uttar Pradesh, formulate a strategy and then move forward. But, sadly, he does not even want to talk to anyone. He knows everyone and recognises them but does not want to talk to them. I am not the one who easily fall victim to suspicion and distrust. But looking at the spectacle unfolding before us, one feels that the strings are being pulled from somewhere else. It looks like the role of the B team. It was fine for him to fight election in Maharashtra. But what is the logic behind going to Jharkhand and fighting election there? Why?
You want to come and field candidates here. Most welcome. But have you prepared the ground here for this? Any party that seeks to fight elections, will have to reach out to people. Will have to send a message to the public. You will have to make committees. You should have workers at polling booths. But here, you have done nothing on the ground, and you are coming without any planning but in a very casual manner. What is this, man? One fails to understand all this.
Let me say it categorically that such actions are not in our interest. This is someone else's agenda who benefit from arousing sectarian hatred between the Hindus and Muslims. No minority anywhere in the world can prosper by challenging the majority. There will always be issues and problems. But these are resolved with wisdom, amicably and through negotiations.
Ghazali: Among the Muslim leaders one more name that comes to mind is Azam Khan. You have been in touch with him as well. What is your opinion about him?
Badar Kazmi: Azam Khan's miscalculations have taken a heavy toll on him. Under my chairmanship, a meeting was held in Rampur in 1973. I think it was Shamsi Saheb's residence in Bazar Nasrullah Khan where this meeting was organised and it was I who registered him as a member of Muslim Majlis. He contested elections on Majlis' ticket in 1974 and 1977. Until 1980 he displayed respect and kindness towards others. In those days, in community affairs, he used to listen to differing views. But after that he developed a sense of megalomania and started to believe that if there was any honest and sincere Muslim politician in India, it was him and the rest of them were dishonest and corrupt. Along with that, he also became very rigid in his views and because of that he started misbehaving in extremely unbecoming manner with people of religious identity. This behaviour started showing signs of him distancing himself from us.
In the last election he miscalculated the situation and convinced himself that whatever happens, his party would form the next government. But neither could they form government at the centre nor in UP where they, specially him, have been left [to suffer] on their own.There are reports that in Rampur he really committed excesses towards individuals and their families. And, forgive me for saying this. It seems that, with few exceptions, all of the leaders that AMU has given to the community, their prime priorities were serving self-interests. Community interests were of secondary importance. All of them started their careers in the name of the community but when the time came, community was shifted to the back burner and self-interests came to the forefront. You build a university and decide to become its chancellor for life. Fine, but then you also start committing cruelties against individuals. When he was expelled from the party, he alleged that all the underclothes worn by Mulayam Singh were saffron [implying that he hides his real Hinduva face]. Then came the time when he said that the first person to dine at the wedding of his son would be Mulayam Singh. So, what does he have to do with the community anymore? He has no concern for the community. Now what remains is: me, my wife and my children!
Ghazali: You said that Azam Khan has a very contemptuous attitude towards people with religious appearance. What do you mean by religious appearance?
Badar Kazmi: People with beard, caps and those associated with madrasas and mosques. Since Azam Khan has also been a minister of Auwqaf, he has learned about several cases of corruptions and misappropriation. This revelation, too, developed in him a sort of extremism. Now he thinks that there is no one who is honest. But this is a very wrong attitude. You cannot paint everyone with the same brush.
Ghazali: But you too are accused of hating religious scholars.
Badar Kazmi: No. My hatred is not for everyone. As far as madrasas are concerned, I am only against the culture [of intolerance and narrowmindedness] being promoted there and the type of generation being prepared in them. The type of graduates these madrasas are producing, are unable to perform their roles properly. This is what pains me. You know it very well how much I respected Maulana Qari Tayyeb Saheb and Maulana Salim Saheb.
Let me narrate an incident relating to Maulana Ali Mian. I did not want to mention it, but you have left me no choice. [Becoming very emotional and with tears in eyes] I cannot forget the pain and shock Maulana Ali Mian had caused to Dr Saheb.
Dr Saheb never sought donations for Muslim Majlis. He spent his own money in its cause. When the 1974 election approached, our preparations were in full swing. A large room of this size was full of election materials, posters, pamphlets and appeals from Maulana Ali Mian that he himself had dictated. Maulana Ali Mian, with his photographs, occupied the most important position in all of these. Let it also be said that it was on Maulana Ali Mian's insistence that Dr Saheb had formed Muslim Majlis. He had said, 'Dr Saheb! Doctors will keep practicing medicines and engineers will practice their profession and this community will be destroyed [due to the negligence and inaction of its elites and well-off members]. This is how, on Ali Mian's insistence, Dr Saheb jumped into politics.
Then one day Bahuguna ji, the then chief minister of UP, paid a visit to Maulana Ali Mian to 'seek his blessings and reap spiritual benefits.' Bear in mind preparations for the election are complete, literature is ready to be distributed and Bahuguna ji visits Maulana very briefly.
In those days, the strip on the bank of Gomti river was not paved. It used to be rough and dusty. Ali Mian requested Bahuguna ji to have it paved which the later got done within three days. After this Ali Mian phoned Dr Saheb and, apologising for his decision, he asked him not to issue the appeal he had dictated. Although I was young at that time, I was very close to Dr Saheb. Allah knows [almost crying] I had never seen such a dejection and disappointment on Dr Saheb's face. Bhai Saheb used to say that had Dr Saheb lived, after the election India would have witnessed yet another war between Jinnah and Azad.
Ghazali: There are misunderstandings about you as well. For example, your role in Muslim Majlis-e-Mushawrat and its division into two groups.
Badar Kazmi: I was coming to that. Whatever I have achieved in life I owe it to Bhai Saheb. He trained and educated me. The man who was responsible for the division in Mushawrat was late Syed Shahabuddin. Zulfaqarullah Saheb was the president of Mushawrat and Shahabuddin Saheb bypassed him and captured Mushawrat. Mushawrat had received a donation of about eight lakh rupees for the victims of Hashmipura and Maliana massacre. I do not remember if it came from within the country or from abroad. Syed Shahabuddin Saheb deposited the sum in fixed deposit account in Kanara Bank. I feel sad to think that a man like Shahabuddin had done such a thing. And to date no one has rectified this mistake. On this issue Bhai Saheb had serious differences and it was because of this that division occurred in Mushawrat. Bhai Saheb filed a suit against Syed Shahabuddin Saheb and Maulana Ali Mian in Deoband court on the plea that the donation that had come for the relief of the victims has not been disbursed among them. The case was jointly filed by late Dr Shakeel Saheb and Bhai Saheb. I had no knowledge about the case. When it came to my knowledge, I was going to Saharanpur and Dr Shakeel Saheb's clinic happened to be on my way. I went to him and said, 'Those who live in glass houses do not throw stones on others.' He was rather surprised [at my sudden appearance and blunt question]. Looking at me in disbelief he explained, 'What do you mean!' I said to him that I was going to Saharanpur and would talk to him in the evening.
The next morning I went to Bhai Saheb and took Dr Shakeel saheb with me on my scooter. I told him that only because of his friendship with Zulfiqarullah Saheb he had spared him. So he should leave Ali Mian alone as well. I told him rather forcefully that Ali Mian was seen with great respect within and outside the country and that if he wished to file the case he should have done it against Shahabuddin Saheb and his team. I told Bhai Saheb that his action would damage his reputation. But he did not listen to me. The case was transferred to Saharanpur where a Muslim judged dismissed it.
What I mean is that whatever Ali Mian did to Dr Saheb is a separate issue but I have never used bad language for him. I respect his scholarship. I criticise madrasas because there was a time when teachers in these institutions used to come from good families and their graduates used to be knowledgeable and talented. But what happens today is that if parents have a child who they think is not intelligent enough they enrol him in a madrasa thinking that if he cannot do anything else in life, he would at least become a maulvi. As a result, what has been coming out of madrasas is before everyone to see.
Ghazali: In a book Muslim Majlis-e-Mushawrat: Ek Mukhtasar Tareekh, by Mohammad Alamullah, it is alleged that after the end of your tenure as the general secretary of Mushawrat, at some point, Shafi Munis Saheb wrote a letter to you asking you to hand over the accounts of Mushawrat but in your response you said that you did not recognise him.
Badar Kazmi: In Mushawrat I figured only as a nominee of Muslim Majlis. I have never held any post in it. The allegation is either the result of some misunderstanding or there is misprinting. The correspondence in question might have taken place between Shafi Moonis Saheb and Bhai Saheb.
---