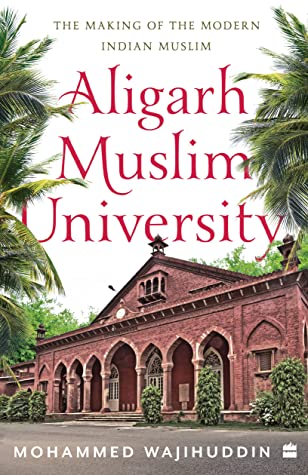 The Making of Modern Indian Muslims: Aligarh Muslim Univesity
Author: Mohammed Wajihuddin
Reviewed by M Ghazali Khan
Pages: 216
Price: £13.99
Publisher: HarperCollins Publishers India
This book by the veteran Indian journalist and senior editor of The Times of India is a brief, comprehensive and well-researched history of Aligarh Muslim University (AMU) and its impact on Indian Muslims.
Highlighting the purpose of writing the book, the author, himself an AMU alumnus, says that this book is 'an attempt to understand how Sir Syed's movement and his college, and then university, have impacted Indian Muslims'.
Such has been the impact of this institution that one of its famous alumni, who later became President of India, the late Dr Zakir Hussain, once said, 'The way Aligarh participates in various walks of national life will determine the place of Muslims in India's national life. The way India conducts itself towards Aligarh will determine, largely, the form which our national life will acquire in the future.'
Wajihuddin quotes an AMU alumnus and former Professor of Political Science, the late M Hashim Kidwai as having written: 'A galaxy of national leaders, like the Ali Brothers (Muhammad Ali and Shaukat Ali), Dr Saifuddin Kitchlu, A.M. Khwaja, Dr Syed Mahmud, Rafi Ahmed Kidwai, Hasrat Mohani, Khan Abdul Ghaffar Khan, T.A.K Sherwani, Zafar Ali Khan, Raja Mahendra Pratap Singh, Dr Syed Hussain, Choudhary Khaliq-uz-Zaman, Yasin Nuri and Hafiz Mohammad Ibrahim were all products of MAO College.'
While there is a long list of AMU alumni who have occupied high posts in India, Pakistan and Bangladesh, the fact that in 1965 two of its alumni— Dr Zakir Hussain (1897-1969) and Field Marshal Muhammad Ayub Khan (1907-1974) were Presidents of India and Pakistan is enough to give an idea of its impact on the Muslims of the Indian subcontinent.
While Jamia Milia Islamia of Delhi owes its birth to AMU and its alumni, two of its old students Sir Ross Masood and Baba-e-Urdu Maulvi Abdul Haq played key roles in the creation of Osmania University. Before the permission to found Osmania University was granted in 1918, Maulvi Abdul Haq challenged Ross Masood to prove that he was the grandson of Sir Syed by getting permission for establishing the university.
Accepting the challenge Masood went to meet the British resident at his Koti Residency. He started conversing with the resident's children in French. The resident told Masood that he could speak in French to him but not to the children who were more comfortable in their mother tongue, English. To this Masood replied: 'Just as your children are getting education in their other tongue, we too want our Muslim children to get education in their mother tongue…When they grow up they will learn English, French, German or whichever language they want to learn.' Thus, Masood convinced the resident about the importance and need for a university and he signed the necessary documents.
Wajihuddin takes great pains to counter Hindutva propaganda against AMU and its founder being anti-Hindu. He narrates an interesting incident. In the Indian subcontinent when Muslim children are taught to read the Qur'an the first lesson is marked by a ceremony called Bismillah. In this ceremony, the child usually sits on the lap of an elder in the family. But in the Bismillah ceremony of Sir Syed's grandson Ross Masood, he was put on the lap of his Hindu friend Raja Jaikishan Das (1832-1905). On this occasion, Sir Syed made a speech and said: 'My community is in dire straits, so I mostly speak about it, but I love other community members, just as I love my own people. When Ross Masood was born, Mr and Mrs Ross gave the new born boy their name. He became Ross Masood. Raja Jaikishan Das is like my brother. Syed Mahmood calls him "Chacha" or uncle, and Ross Masood calls him "DadaRaja". I love my friends and do not discriminate.'
Like all alumni of pre-1990s—when standards of this great institution started falling— Wajihuddin is pained by the decline of standards in AMU and the fading of the old image of AMU students. He writes: 'The popular image of AMU boys and girls is fading. And the change is not merely sartorial. It is also the way AMU is perceived. For decades in the last century, AMU remained an epicentre of Muslim politics, a nerve centre of Indian Muslims' intellectual life. It made or marred the "Muslim destiny" like no other institution.' But despite this decline, argues Wajihuddin, 'AMU remains a centre of intellectual life for Indian Muslims.' He quotes Akhtarul Wasey, professor emeritus at Jamia Millia Islamia (JMI), Delhi, president of Maulana Azad University and former Honorary Secretary of AMU Students Union: 'It is the largest hub of intellectuals in the Muslim world. Nowhere in the world will you find so many educated Muslim minds concentrated at one place.'
With my little interaction with the author on some internet forums and on social media, I am aware of his strong dislike for some pre- and post-1947 Muslim politicians. Yet he has maintained a maximum level of objectivity and fairness towards them. However, when it comes to Muhammad Ali Jinnah, the founder of Pakistan, sadly, he disappoints many and fails to control his temper. Referring to the known Urdu writer and Pakistani civil servant and one of the most respected alumni of AMU the late Mukhtar Masood, as 'an unabashed admirer of Quaid-e-Azam' he complains that not even once does he 'mention his hero's [Jinnah's] well-known love of pork and whisky…'
Well, Wajihuddin Saheb you must not be unaware of who else among the Muslim stalwarts in that period was known to love whisky.
Wajihuddin is not someone who is unaware of the fact that AMU alumni are spread all over the world, including Pakistan and their love for their alma mater is in no way less than Wajihuddin's love for this historic institution. After all, he himself writes: 'You can take an Alig (alumnus of AMU) out of Aligarh but cannot take Aligarh out of an Aligarh…' and cites many examples of the extraordinary love AMU's old students have for it, most moving of which is putting on auction her wedding jewellery by a US-based alumnus Afsha Hashmi, during World Alumni Meet and Founder's Day at a base price of Rs 6.5 lakh through video conferencing. General Secretary of the AMU Alumni Association in Mumbai, Raees Ahmed, who had risen to such challenges many times before, was there. He set off the bidding quoting Rs 11 lakh and bought the jewellery. Wajihuddin quotes as having been told by him, 'Wedding jewellery is one of the most cherished possessions of any married woman. It was gifted to AMU with great feeling and emotion, and how could I buy emotions and feelings? What would I have done with jewellery? I donated it to the university.' In this auction a Pakistani national Brigadier (retd) Mohammad Shafi was also present and donated $1,000.
Wajihuddin could have given vent to his uncontrollable anti-Jinnah hatred on any other platform or in another book and should not have spoiled such good work by such comments. Unfortunately, to do this he chooses a known apologist, late Rafiq Zakaria, writer and former Member of the upper house of the Indian parliament, Rajya Sabha and the father of Indian American journalist Fareed Zakaria, and quotes extensively from his writings. To ridicule and character assassinate Jinnah he quotes Rafiq Zakaria who unwittingly berates and belittles a fearless and selfless personality like Maulana Hasrat Mohani and by quoting him Wajihuddin also repeats this blunder.
According to Rafiq Zakaria, once Maulana Hasrat Mohani went to see Jinnah without an appointment and found him drinking alcohol. Jinnah realised that Maulana was angry. Yet, 'To humour him [Maulana Mohani], he asked him whether he would like to taste the forbidden drink.'
Jinnah was known, to the extent of notoriety, for his punctuality and did not entertain anyone who visited him without an appointment. Surely Maulana Mohani would have been aware of it and would not have gone to see him without an appointment. And even if he had done so, Jinnah would have refused to see him. Also Hasrat Mohani, like Mohammad Ali, was known for being blatantly frank and would not hesitate for a moment to speak his mind and call a spade a spade. It is extremely silly for someone to assume that he would have seen a Muslim drinking and would have kept quiet and would not have reacted at being insulted by being offered whisky.
Wajihuddin provides interesting and rare information about AMU's history, highlighting Indian media's biased and anti-Muslim tirade against Muslims, Tableeghi Jamaat, Jamaat-e-Islami and anti CAA protests organised by Jamia and AMU students. He warns that the danger of CAA is not over yet, and its sword is still hanging on the heads of the Muslim community.
Wajihuddin's pain at the cultural deterioration and falling standards in his alma mater is visible. He has devoted a full chapter 'To the Students of AMU' and writes: 'AMU today stands at a crossroads. A sword hangs on its minority character as it awaits the verdict of the Supreme Court…Though the anti-CAA-NRC issue is on the backburner because of the outbreak of the Coronavirus pandemic, it has not disappeared. Once the Centre begins the process of implementation of CAA, students of AMU may not sit quiet about the police brutality at the university on 15 December 2019 which left many students severely injured.' Talking about these police brutalities Wajihuddin laments at the lack of interest of community leaders in AMU affairs. He says: 'There was no Dr Syed Mahmud of Patna, Dr Faridi of Lucknow or Syed Shahabuddin hitting the streets as in Delhi and courting arrest to protest against the police excesses at the AMU campus.'
During the student days (1974 -1983) of this reviewer whenever there was some turbulence in the campus, community leaders were always present there. How the University has been abandoned and left at the mercy of university administration is shocking. This is the same university in which when its Vice-Chancellor Sir Ross Masood thought of resigning, prominent Muslim personalities thought it necessary to intervene. Writes Wajihuddin: 'The news of Ross Masood's resignation as VC was a big blow to well-wishers of the university. Both the Nawab of Bhopal, Hamidullah Khan, who had become chancellor of AMU and the poet Allama Iqbal tried to persuade Ross Masood to withdraw his resignation…' This is the university that was the hub of community affairs. Whether one agrees with them or not, but this is a fact that when some of its old boys got disenchanted with the administration, they established another university and gave the community Jamia Millia Islamia.
This is, without doubt, a very well-researched and well-argued book that everyone interested in Indian Muslim politics, Aligarh Movement, the partition of India and specially the vice chancellors of AMU and Jamia Millia Islamia, who seem to be devoid of the sacrifices of Muslims for these two institutions, must read.