By M Ghazali Khan
A senior Aligarian and one of the soldiers of the struggle of AMU's Minority Character, Ishrat Firoz, breathed his last in JN Medical College, AMU on 30th September 2020. انا للہ وانا إليه راجعون
He was my senior in VM Hall's Nasrullah Hostel. For two years I lived in Room 33 and he was in 34 and thus we were neighbours as well. Later I moved to Room 25 with my classmate and close friend Waseem Ahmad Qadri (now a senior advocate at Supreme Court of India). Nevertheless, Ishrat Bhai and I lived in Nasrullah Hostel for nine years—1974-83.
Although much junior to Javed Habeeb, Arif Mohammad Khan (sorry to mention the name of this man who does not want to have anything to do with the community but a historical fact has to be mentioned), Akhtarul Wasey, Z.K. Faizan, Mushtaq Ahmad Khillu and several others, Ishrat Bhai and his close friend Nadeem Tarin—both PUC (Pre-University Course) students at that time—took an active part in the long struggle for the restoration of AMU's Minority Character and went to jail for this cause.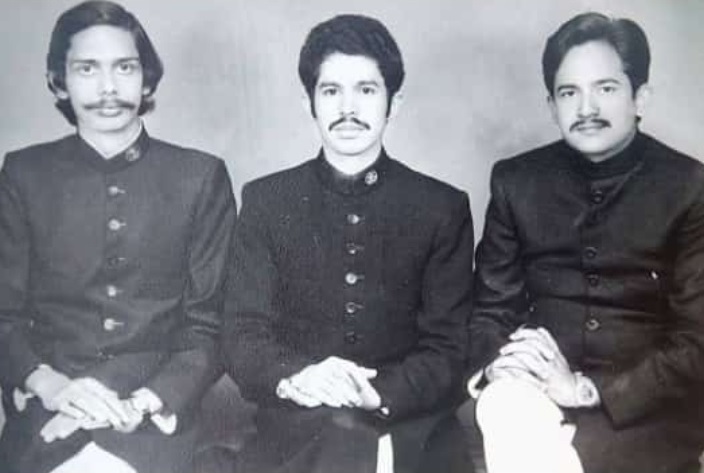 In our student days AMU used to be the hub of positive Milli activities. In such a lively culture and environment, our hostel, with residents like Azam Khan, Nadeem Bhai and Ishrat Bhai, was bound to be more vibrant and active. Not only was Ishrat Bhai an active student leader, he was also a cabinet member (perhaps senior cabinet, if my memory is not failing me) in the students' union in which Azam Khan was Honorary Secretary.
To give young Aligarians and non-Aligarians an idea of Aligarian spirit of those days I feel it necessary to narrate an interesting incident. In our hostel we had two groups: anti-Azam Khan and pro-Azam Khan. The pro-Azam Khan group was led by three seniors and very close friends: Ishrat Bhai, Nadeem Bhai and Akhtar Zameer Bhai. Akhtar Bhai and Ishrat Bhai were roommates as well. After leaving AMU Akhtar Bhai got a job in Dubai. Like any dutiful son and brother obviously he would have shared the joy of getting his first salary by sending money or gifts to his parents and siblings. But along with them he remembered his hostel mates as well and sent some money to Ishrat Bhai to arrange a dinner for the whole hostel total numbers of whose residents were around 109. Since Ramadan started only a few days after, Ishrat Bhai arranged a magnificent Iftar instead.
During the emergency an atmosphere of fear and suffocation had gripped the country. Everyone was trying to be more loyal than the king and outdo even the most loyal Congress members by doing something extraordinary. In AMU, students' union was dissolved and Azam Khan was arrested. As per tradition our hostel was going to have an annual group photograph. Even in that fear-stricken atmosphere, Ishrat Bhai, Nadeem Bhai and Akhtar Bhai showed the courage to propose that in the group photo Azam Khan's portrait be put on one of the front chairs reserved for senior students, warden and the provost. Obviously, this was opposed by anti-Azam Khan group and the warden and, as a result, that year there was no group photograph.
Born in Azamgarh in 1955, Ishrat Bhai came to Aligarh at an early age to join Minto Circle. He was a bright student and did his Ph.D. in Psychology from AMU. He was not only a good writer but was a fine orator too. He conducted cultural and social gatherings in his typically attractive Aligarian style quoting Urdu verses. But he had a passion for writing, took journalism as a career, and published a serious magazine Satoon from Delhi. But sadly, he could not pursue his journalistic career for long. He suffered from diabetic and related ailments affecting his kidneys and worsening his health rapidly forcing him to close his magazine and take leave from an active life.
After leaving Aligarh I lost touch with him. Whenever he happened to see my uncle (chacha), Dr Mohammad Yusuf Khan (Dept of Arabic), he told him without fail that he wanted to talk to me. But Chacha jan always forgot to give Ishrat Bhai my number or take his phone number. When Ishrat Bhai came on Facebook, I talked to him via voice mail and later by phone. On a couple of occasions when I phoned him he was not feeling well and had been hospitalised. Thinking that I might be disturbing him, I stopped calling him this way. I remained in touch on Facebook though. From his Facebook activity it was becoming clear that he was not keeping well.
In Ishrat Bhai I have lost a good friend and the community has lost a sincere and dedicated activist. May Allah SWT grant him maghfirah and bless his family the courage to bear this loss.